Sunday, December 31, 2006
Rock Star in training
Photo Sharing - Upload Video - Video Sharing - Share Photos
Scott was listening to music and showed Tanner how to be a rock star. I think he might make a good one.
Labels: The kid
Posted by Heather Noel :: 4:22 PM :: 2 Comments:

---------------------------------------
Saturday, December 30, 2006
Its working...
Just a real quick pic and off to watch Chuck Lidell and Tito fight it out. I dont know who to root for I like them both...
Labels: Its all about the tv/movies
Posted by Heather Noel :: 10:08 PM :: 4 Comments:

---------------------------------------

Hoping

So Scott was trying to install the router so my laptop can connect to the internet, and for some reason, the phone quit working. (Its digital) so now he's unplugged everything until we get back home. We're having the last of our Christmas tonight, so if we get home before the Big UFC fight tonight maybe he will get it up and running. I go nuts knowing I have no computer access. Who cares about the phone...I need the internet!! LOL. Well I'm leaving to help get the food ready. Hey, the hung Saddam. They finally did something right.

Labels: Its all about the tv/movies, Scott


Posted by Heather Noel :: 4:55 PM :: 3 Comments:

---------------------------------------
Friday, December 29, 2006
This just sucks...

I've been trying to post a picture for 2 days now, and it still wont let me. Dammit!

Labels: Bloggity Blog Blog


Posted by Heather Noel :: 9:59 AM :: 4 Comments:

---------------------------------------
Thursday, December 28, 2006
No title today

Well my blogging schedule is a little off this week since Scott gets home at 2. Which is wonderful. I get to spend a lot of time with him, and we actually get to go to bed at the same time. That normally only happens on his days off. I went back to work yesterday, it was a good day...an easy day. Then when I got home we watched Superman Returns (the new one) and it was suprisingly good. I'm not a big Superman fan, especially since the guy playing him is actually suppose to be playing Christopher Reeves part, but he did an awesome job. LONG movie, but I would watch it again. We also watched Pirates of the Carribian Dead Man's Chest. AWESOME. How could it not be with Johnny Depp and Orlando Bloom? I mean really was there ever a doubt? I was going to post a picture but blogger wont let me right now. I'm off to watch the Doodlebops with Tanner. You think with all the new toys he'd want to play...yeah right.

Labels: Bloggity Blog Blog, Its all about the tv/movies


Posted by Heather Noel :: 9:42 AM :: 3 Comments:

---------------------------------------
Tuesday, December 26, 2006
Our Christmas...all 3 of them!
Our first Christmas...at my parents
SO our Christmas started on the 23rd, we travled up to NC to see my parents. While we were there, there was also a family reunion of sorts for Christmas, so we stopped by. It was the first time for a lot of my family seeing Tanner. Of course he was a hit. But he wanted nothing to do with the adults, he wanted to play with the kids and the dog. While we were at the party, my cousin Geoffrey proposed to his girlfriend Alicia. So there's going to be a wedding. We didnt stay long, when we got back to my parnets house there was blackout, the whole neighborhood was dark, so we grabbed the laptop and played Disney's Scene it by candle light. Fastforward to Christmas Eve....we did presents:
Where we all made out like bandits. We made the mistake and let Tanner open his stocking in which there were 2 bags of DumDum suckers, and that's all he wanted "One peese" He also got the cutest Disneys Cars tv, lots of clothes, he got his own copy of the Polor Express...Scott got movies, a watch, shirts, a gift card to Old Navy, and a 5lb bag of twizzlers. And I got:
Yep I got me a laptop!! Yippee! I also got a cute bag to carry it in. Some earrings from my sister, a Vera Bradley purse, and a CD I've been wanting. (Told you made out like badits.)
Next, Christmas at our house....
After an awesome dinner with my family, we packed up my car, and headed home. We got there about 7:45pm. Unloaded the car, changed into our pjs, and had our Christmas. Scott had to be at work at 6:30, and he didnt want us to have to wake up at 4 to do Christmas, so we decided to it Christmas Eve.
So Santa, was good to us and Tanner got SO much stuff I need a bigger house just for the toys.
We had a great family Christmas. Tanner loved his Fisher Price activity center. (left) He played with it for hours. He got so many toys. He got a wack-a-mole game, an aqua doodle, tools for he tool bench, some cars...and other stuff I cant really remember. Scott got a belt buckle he's been wanting, new sun glasses, and he got me a beautiful necklace and matching braclet.
And our 3rd Christmas...the inlaws!!
And our Christmas adventure ends with Christmas at my in laws. Man oh man. I will say Tanner got more toys there than anywhere. Wow, I dont know what to do with them all. We gave some of his toys that he doesnt play with to good will and the Police station where my mom works, I'm begining to think we didnt give away enough. He got a Vtech Baby video game:
A little table and chairs set, a new toy box, a basket ball goal, and so much more. Scott got 2 new saws:
Jeans, and a new skeloton for his collection (dont ask). He got some other stuff too, but I cant think of it all right now. As for me... I got some new pots and pans, to go with the new silverware my mom and dad got us. I also got some new baking pans which I desperatly needed. I got lots of girlie stuff, and a new seat cover and steering wheel cover for my car. (If you look close in this pic you can see the necklace and braclet I got)
I have more pictures to post, I will try to upload them to Flickr soon, this post turned out a lot longer than I planned. I hope everyone had a very Merry Christmas, and I hope Santa was good to you all.
Labels: Woo Who Holidays
Posted by Heather Noel :: 9:36 AM :: 2 Comments:

---------------------------------------
Sunday, December 24, 2006
Merry Christmas Everyone!!!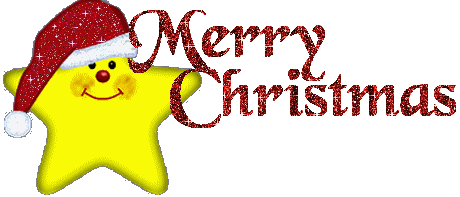 Labels: Woo Who Holidays
Posted by Heather Noel :: 9:56 PM :: 2 Comments:

---------------------------------------
Rest in Peace Great Grandpa Flaugh
We're home, and safe, but we got some bad news. Scott's grandpa died Friday night in his sleep. He was 94. He will be missed.
Labels: Nothing but family
Posted by Heather Noel :: 8:30 PM :: 2 Comments:

---------------------------------------
Friday, December 22, 2006
Tanner's birthday
Tanner's birthday Originally uploaded by HeatherScott.
Its been a rather gloomy day, lots of rain, and no sun. But we've made the best of it. Being lazy, and coloring, and of course watching the Polor Express again. Tanner didn't get lots of gifts today, just 2. Some warm pjs, and that light there in the picture. It has all the super heros and shows up all over when its on. He loved it. Tomorrow we will be seeing my parents which means lots of Christmas presents for him, and then we're doing Christmas together Christmas Eve, because Scott has to be at work on Christmas morning at 530am. Then when he gets home at 3 we're going to his parents for Christmas with them, so needless to say we will have a very busy weekend, I hope I get some time to post durning the next few days, if not I hope everyone has a Very Merry Christmas!!
Labels: The kid
Posted by Heather Noel :: 9:30 PM :: 1 Comments:

---------------------------------------
Its here....
Yep today is the day, that my sweet, baby boy turns 2. Where has the time gone? I look at him and still see the 7lb 11oz, little baby I brought home from the

hospital

.... My dear sweet boy: Today is your birthday, you are 2. No matter how hard I want to deny it you are growing up. You are a big boy now, and not a little baby. (Even though you will always be my baby) It amazes me how much you have grown this year, especially in the past few months. You are talking, your vocabulary has tripled in the past month. You can count to 5, and you know your animals...especially elephant, which you pronounce

elllfont

...but I know what you mean. You have the most beautiful spirit I have ever encountered. You have the ability to make anyone smile. You show compassion at your young age, and as you get older I hope you hold on to that. When someone cries, you want to hug them and make them laugh. You are not scared of anything, and I'm not sure if

that's

a good or bad thing yet. You love to jump on the bed and dance. You copy dances you see on

TV

, dances that mommy would never attempt in a thousand years, and some how when you grab my hand and we dance, you look at me like I am Ginger Rogers, and my heart feels with joy. Thank you my sweet, sweet boy, for teaching mommy its okay to be silly once in awhile, and for being daddy's wrestling partner. Know that you have my heart little man, and I love you always. "My wish, for you, is that this life becomes all that you want it to, Your dreams stay big, and your worries stay small, You never need to carry more than you can hold, And while you're out there getting where you're getting to, I hope you know somebody loves you, and wants the same things too, Yeah, this, is my wish."

Happy birthday Tanner, mommy and daddy love you so, so much!!!

Labels: Letters to the kid


Posted by Heather Noel :: 12:02 AM :: 4 Comments:

---------------------------------------
Thursday, December 21, 2006
A very busy day
Well I guess I should update. I had finals yesterday and....drum roll please, I made the Honor Roll...2 A's and a B. I'm a little disappointed in the B, but I'll take it. It could be worse. So I'm done with school, until the 8th. Woooo Whooo, I can actually sleep in a little. Today we had a Christmas party at the school for the kids, and I was told I could bring Tanner. He's chowing down in the pic, I have several others, but he was with other kids, and until I learn how to blur them out, I wont post them. But he had a great time. He loved being with the kids. I was so proud of him, seeing him around other 2 year olds makes me realize how well he behaves. He shares, he doesnt hit or push, even if he was pushed, he doesnt take toys from other kids, and when he saw someone crying he tried to hug them. I'm worn out from 11, 2 year olds, but he sure had some fun.....

Labels: The kid


Posted by Heather Noel :: 11:55 PM :: 0 Comments:

---------------------------------------
Tuesday, December 19, 2006
The many faces of the Polar Express

I said a couple of post back that we saw the Polar Express, and that Tanner loved it. Well it came on the Disney Channel on Sunday and I took these pics, they are priceless. He got excited in the right parts, and was seriouse during the quiet parts...it was too funny.
He watched both showings of the movie, I think I'll have to get it for him for Christmas or his Auntie Kristi will have too, (hint hint). Well I'm off to study finals are tomorrow, then I'm out of school until January 8. Woo whoo!!

Labels: The kid


Posted by Heather Noel :: 5:49 PM :: 2 Comments:

---------------------------------------
Sunday, December 17, 2006
The birthday party post...and its a long one

Man, yesterday was a long wonderful day. The day was beautiful. It was like 75 degrees outside, so the kids got to outside and play while Scott cooked on the grill....
Make sure to pay attention to Tanner's outfits, since I ended up having to throw him in the shower half way through the party.
So after everyone played outside, and some of them turned blue...everyone came in to eat hotdogs and chips.
And while everyone ate and talked the entertainment put on the cutest little show, that kept everyone smiling...
This is Beck's little one Christopher and he was passed to every female at the party. He is a doll. So after food, came the presents, and boy was there a lot of them!!
This is just the presents from the grandparents, Aunt Kristi, and us...and guess who ended up opening them all? Me, he wanted to play with everything as soon as he saw it.
This is the magna doodle that Beck and her kids got him, he loves and has played with it most of the day.
And this is the Zebra that my sister got him, and he loves the way it spins around, it looks like he's riding a mechanical bull when he gets on it.
And then of course there was cake and ice cream!! Yum!!! This is the ice cream cake, that we still haven't cut yet, and below is the one that is now gone
And of course this post wouldnt be complete if there weren't some messy face pictures...this first one he did all by himself...
Then he decided to eat it like a big boy...but he still made a mess, I am so glad he did it all by himself, and we didnt have to push his face in it!
And then after everyone went home, Tanner decided to party some more all by himself, and this is why all the cake is gone
And so we made it though the birthday party with minimal stress, we did have a few mishaps before the party, like a bouquet of balloons getting sucked into our ceiling fan, but all it all I thought it turned out great. Tanner had a blast as did I. But I am glad birthday parties only come once a year. LOL. These are only some of the pics, I think at last count the counter said 408...you can CLICK HERE to see somemore, I think I really on edited 50 so far, but they are up on flickr, so click away and enjoy.

Labels: The kid


Posted by Heather Noel :: 10:52 AM :: 4 Comments:

---------------------------------------
Saturday, December 16, 2006
Pre-birthday party post
I promise a long birthday party post, with lots of pictures but I'm still going through pictures. Between me and my dad, we took almost 400. So between picking the ones I want to share and editing, its taking awhile. So check back in the morning, I promise it will be worth it...

Labels: Daily Musings


Posted by Heather Noel :: 7:59 PM :: 3 Comments:

---------------------------------------
Thursday, December 14, 2006
I didn't have anything else to post
tink Originally uploaded by HeatherScott.
Holiday Edition of Getting to Know Your Friends Welcome to the 2006 Holiday Edition of Getting to Know Your Friends! You know the drill. Don't be a scrooge!!! 1. Egg Nog or Hot Chocolate? Hot Chocolate 2. Does Santa wrap presents or just sit them under the tree? Wrap 3. Colored lights on tree/house or white? Colored 4. Do you hang mistletoe? Yes, its fake but we hang it 5. When do you put up your decorations? First weekend in Dec 6. What is your favorite holiday dish (excluding dessert)? Turkey and Stuffing 7. Favorite Holiday memory as a child: Me and my sister staying up all night waiting for Santa to come and mom and dad to tell us we could get up. 8. When and how did you learn the truth about Santa? My aunt told me when I was 7 or 8 9. Do you open a gift on Christmas Eve? Yep 10. How do you decorate your Christmas Tree? Bells, and lots of lights 11. Snow! Love it or Dread it? Can live without it, but I would love just one white Christmas 12. Can you ice skate?Um...a little .13. Do you remember your favorite gift? Ha that's easy, Tanner 14. What's the most important thing about the Holidays for you? Being with my family. 15. What is your favorite Holiday Dessert? Umm...I dont know 16. What is your favorite holiday tradition? Opening one present the night before. 17 what tops your tree? An Angel 18. Which do you prefer giving or Receiving presents? Giving, I love watching everyone open presents 19. What is your favorite Christmas Song? Carol of the Bells 20. Candy Canes Yuck or Yum? Yum!
Labels: Its MeMe time...
Posted by Heather Noel :: 11:03 PM :: 1 Comments:

---------------------------------------
Tuesday, December 12, 2006
Some Christmas fun...
Labels: Just stuff
Posted by Heather Noel :: 8:27 PM :: 2 Comments:

---------------------------------------
9 days
In 9 days my little man will be 2. In 4 days we will have a house full of people, and in 13 days Santa will be here....Wow.

Labels: Daily Musings


Posted by Heather Noel :: 8:22 PM :: 0 Comments:

---------------------------------------
Monday, December 11, 2006
Its getting harder and harder
To take pictures of my big boy. Everyday it gets harder and harder to get any good shots because he's always on the go, and he just doenst want to smile anymore, he would rather run and laugh. While that is adorable too, I miss getting those big eyes in a shot. Dont get me wrong once in awhile he will give me a good look, but I miss those days when I could take one whenever I wanted. I guess now I will have to become more creative with my pictures. After I graduate, maybe I will take a photography class. We've been steady getting ready for his birthday party this weekend, it seems like once we get something done, 2 more somethings come up. I know I will never feel like everything is totally done before Sat. and I will have to deal with it, but this is really the first time that we've had a bunch of people over since we've been married. We had a party when we were dating, but then it didnt really matter. It was a party with drinking...we were young...now I want everything to be spotless, and in its place, which never happens with a soon to be 2 year old. I went to order his cakes today, and of course the machine is broke for one of them so now I have to go check somewhere else. Oh well I'm off to do another load of laundry and then I'm taking my butt to bed.

Labels: The kid


Posted by Heather Noel :: 9:16 PM :: 1 Comments:

---------------------------------------
Sunday, December 10, 2006
A busy, busy weekend
Man, am I ever tired. We have stayed busy this whole weekend, and we havent left the house once. We got a lot accomplished so we pretty much just have detail work to do before this weekend. I even got all my Christmas cards done. Yay! I'm still feeling good. I started coughing again, but no where near as bad as I was before. Last night I finally got into the Christmas spirit. Yep it finally hit me. We were watching The Polar Express and I got the Christmas feeling...I have never seen the movie before, and I have to say it has become a fast favorite. Tanner loved it, he actually sat down for the whole movie. Well after a busy weekend, I have to sit down and do my homework, so I'm not rushing to do it in the morning. Until later...oh yeah, we havent had success with potty training today, it seems like we would sit him on there for 20 minutes and the minute we put the pull up on him, he would pee. LOL. Thats my boy.

Labels: Daily Musings


Posted by Heather Noel :: 8:04 PM :: 2 Comments:

---------------------------------------

Its that time of year....

Its that time of year, where a lot of us are getting low on cash from all the shopping we do for Christmas. But of course if you were a smart shopper and did your research you probably would have found the awesome site with

Online Coupon Codes

. Man do they have coupons for EVERYTHING!! I wish I would have found them in October. I would have definately saved some money on Christmas. But that's okay, because they are now in my favorites and I will be using them next year. I have Scott's birthday coming up next month and they even have coupons to his favorite store. Old Navy. Yep. They have coupons to Dell, Gap, Payless shoes, and that's just to name a few. They have from A-Z. So if you're not done with you're Christmas shopping yet, you should definatly check it out, if you have finished, check it out anyway, everybodys needs to save money at one point.

Labels: PayPerPost


Posted by Heather Noel :: 9:41 AM :: 0 Comments:

---------------------------------------
Saturday, December 09, 2006
Let the Potty Training begin
Like I said we started the potty training on Thrus. but today we had all day to really work on it, and guess what?! He peed and pooped in the potty today. Just once, but its a start. We made a big deal about it, and gave him a sucker. Hopefully we will continue to have this kind of progress. I'm so proud of him. We got a lot done today, Scott got the lights up, he cleaned the office, and Tanner's room, I cleaned and unclutter the cabinets in the kitchen and the living room. Needless to say its been a busy day. And I feel better. I've been taking my medicine like I'm suppose to, and I really do feel better. Just a little headache once in awhile. I'm waiting for Toot to go to sleep so I can get to my Christmas cards. He should be winding down soon. Hopefully I dont wind down, I really want to get at least half of my cards done tonight, and the rest done tomorrow...I guess we will see.

Labels: The kid


Posted by Heather Noel :: 9:59 PM :: 1 Comments:

---------------------------------------

No pictures today

Its been a couple of days since I posted sorry. After posting everyday for over a month I felt out of routine. Well I was hoping to get on here and say "Hey I'm better woo who!" Yeah right. I woke up Thrusday and I felt great. I had energy and I slept through the night. Yesteday, I felt good, but while I was at work my face started to hurt, and by the end of the day I couldnt breath. So now this crap has moved from my chest into my head...so I'm not coughing anymore I'm just a huge snot factory and I look like Rudolph the red noes reindeer!! And what sucks the most is all the stuff we've got to get done this weekend. Finish putting up Christmas lights, shampoo the carpets, paint the bathroom, clean out Tanner's room, and I have got to get my Christmas cards ready for Monday...just to name a few. Next weekend is Tanner's bday party and I dont want to have to rush around the morning of trying to clean everything. SO....needless to day our weekend will be a very busy one. Oh I do have some good news...we offically started potty training yesterday. Hopefully he wont be so stubborn, it took us awhile to convience him that it wasnt time out....okay well if I get some time to myself later I may be back, if not...I'll try not to stay away too long.

Labels: Absoulutly Blah


Posted by Heather Noel :: 9:38 AM :: 2 Comments:

---------------------------------------
Wednesday, December 06, 2006
Still here...
I'm still here and still sick. It wouldnt be so bad if I wasnt coughing so hard...but I cough so hard my head is killing me, I probably rattled something loose up there. Man. So I stayed home from work, I probably should have done that yesterday. They tried to send me home, but I was stubborn. I'm pumping myself full of cough meds, but nothing seems to help. I WANT MY MOMMY!!! ( Just in case you're reading this mom). I'm a big baby when I get sick. And its hard to be sick with a toddler running around. Even though I must say he's been awesome since his daddy left. He laid down and took a nap with me so I could get some rest, and he's still asleep so I can study for yet another test. 2 more weeks, just 2 more weeks, then I get some real time off so my brain can relax. Okay, I'm just whining now, I told you I was a baby when I get sick.

Labels: Absoulutly Blah


Posted by Heather Noel :: 6:27 PM :: 2 Comments:

---------------------------------------
Tuesday, December 05, 2006
MeMe
tink Originally uploaded by HeatherScott.
1. Explain what ended your last relationship? My last real relationship? I was young and thought he would leave his ex wife for me...he did leave her but for my best friend 2. When was the last time you shaved? 2 days ago 3. What were you doing this morning at 8 a.m.? Sitting in class getting ready to take notes 4. What were you doing 15 minutes ago? Catching up on reading blogs. 5. Are you any good at math? No. 6. Your prom night? We had a group date, nothing big just fun 7. Have you had to take a loan out for school? Have one now for school 8. Do you know the words to the song on your myspace profile? Yep 9. Last thing received in the mail? Bills 10. How many different beverages have you had today? One, Dr. Pepper 11. Do you ever leave messages on peoples answering machine? Depends on who it is. 12. Who did you lose your CONCERT virginity to? My parents took me to see Alabama when I was 8...first one without the parentals...dont laugh, New Kids On The Block 13. Do you draw your name in the sand when you go to the beach? Yes 14. What was the most painful dental procedure you have had? Having my wisdom teeth cut out. 15. What is out your back door? Fenced in yard, with a slide and swing 16. Any plans for Friday night? Dinner with the in laws like every Friday 17. Do you like what the ocean does to your hair? Is there really anyone who does!? 18. Have you ever received one of those big tins of 3 different popcorns? yes, and I never eat them, I dont really like pop corn 19. Have you ever been to a planetarium? Yea, on a school field trip. 20. Do you re-use towels after you shower? Yep again. 21. Some things you are excited about? Tanner's bday party coming up. 22. What is your favorite flavor of JELLO? I dont like Jello, reminds me of the hostpital 23. Describe your keychain(s)? 3keys,and a key chain with a picture of Tanner on it 24. Where do you keep your change? In Tanner's piggy bank 25. What kind of winter coat do you own? I dont own a winter coat, it doesnt get that cold here, I have a jacket 26. What was the weather like on your graduation day? Warm, we graduated at night. 27. Do you sleep with the door to your room open or closed? Both, closed when we have company, open when its just us 28. Tag three people. Hmm, Beck, Tonya, and Kathy.
Labels: Its MeMe time...
Posted by Heather Noel :: 11:58 AM :: 1 Comments:

---------------------------------------

Sitting in class

Twidling my thumbs. Its too early to go to work, and too late to make the trip home. And it sucks to be so far ahead that you can leave but can't. Go figure. I got my test back I got a B. Which kinda sucks. But I didn't feel like I retained any information when I tried to study last night. Stupied cold. My chest still hurts and nothing I take is stopping the cough. I get this crap every year. I should be use to it by now. I am going to work today, hopefully we dont have to go outside, I havent been outside since this morning so I dont know if its warmed up or not. Well, I'm off to twidle my thumbs some more....or maybe do that MeMe that Miranda tagged me with.

Labels: school


Posted by Heather Noel :: 11:41 AM :: 1 Comments:

---------------------------------------
Monday, December 04, 2006
Still feeling blah,

Well I decided not to go to work, I would feel really bad if I gave what ever I have to 10, 2 year olds. Scott was wonderful, told me to take a nap, which I did when I wasnt coughing, when he woke me up to tell me he was leaving, the kitchen was clean, and he had done 3 loads of laundry. I love that man. He also took Tanner to my mother in laws, so I could sleep and study...which I have been doing for 2 hours. I always feel like I dont get it, but then I get an A on a test...(and now I've probably just jinxed myself). My chest is killing me, I feel like every time I cough a lung is coming with it. Well I'm going to study for another hour then hit the hay, but before I do any of that, I'm going to have some chicken soup my mother in law brought me....

Labels: Absoulutly Blah, Scott


Posted by Heather Noel :: 8:00 PM :: 1 Comments:

---------------------------------------
Sunday, December 03, 2006
Toot
Toot Originally uploaded by HeatherScott.
And I will end....and you guys will begin with Tanner. Thats what everyone comes here for anyway...lol. He's learned so much this week. He can count to 3. He is learning animals right and left. He can say elephant (Lphat) . A video came on the Disney channel this morning, and he was like Lphant, duck, monkey, puppy....and he got them all right. I was like wow, he really does listen. And he's learning. I was just hoping to get him to say 2 before his birthday, but I got a little more. Which is awesome. He's going to start daycare in Jan. 3 days a week, 4 hours a day. I've got the paperwork filled out all I have to do is go turn it in. My little boy is growing up so fast.
Labels: The kid
Posted by Heather Noel :: 10:29 AM :: 1 Comments:

---------------------------------------
Kissing under the Christmas lights
Kissing under the Christmas lights Originally uploaded by HeatherScott.
Just another pic of us, since I dont post pictures of grown ups on my blog too often.
Labels: Lovey Dovey
Posted by Heather Noel :: 10:25 AM :: 0 Comments:

---------------------------------------
I triple dog dare ya
I triple dog dare ya
Originally uploaded by HeatherScott.
So I mentioned food...well they had wasobee there (I'm probably spelling it wrong) and Scott wanted to try it. He's heard how hot it was...so he put a small spoon full on his plate. Well one of his friends dared him to eat the whole spoon full, and you know men, they never back down from a dare...the picture doesnt do justice to the moment...he turned 5 differant shades of red, starting at his chin and working its way up...no joke. Needless to say I dont think he will do that again.
Posted by Heather Noel :: 10:25 AM :: 0 Comments:

---------------------------------------
At the Christmas party
At the Christmas party
Originally uploaded by HeatherScott.
We went to Scott's company Christmas party last night. We had a good time. It was nice to go out without Tanner. Even though it broke my heart that he wasn't up set that we were leaving. Go figure. They had good food at the party, and we even won a door prize. A bottle of wine, which of course we dont drink. LOL.
Posted by Heather Noel :: 10:22 AM :: 1 Comments:

---------------------------------------
Tanner helping daddy do the floors
Tanner helping daddy do the floors
Originally uploaded by HeatherScott.
Blogger is being dumb right now, and since I want to post pictures I have to do it from Flickr. So bare with me please. I have to post each picture seperately because I'm no good with HTML codes.

So I took this yesterday, Scott was cleaning the floors and Tanner decided he wanted to help too.
Posted by Heather Noel :: 10:19 AM :: 3 Comments:

---------------------------------------