Thursday, August 31, 2006
Woo Hoo!!!
I just wanted to gloat and tell everyone how proud I am of my husband. He just received his second promotion this year. How awesome is that?!! He has to fly to Atlanta for training in Sept. He's so excited and I'm excited for him. Well I'm not going to take away from his big news and post about me. I will save that until tomorrow. Good job baby!! I am so very proud of you!!
Posted by Heather Noel :: 8:43 PM :: 0 Comments:

---------------------------------------

Saw, liked, figured I share

A United States soldier was attending some college courses between assignments. He had completed missions in Iraq and Afghanistan. One of the courses had a professor who was an avowed atheist and a member of the ACLU.One day the professor shocked the class when he came in. He looked to the ceiling and flatly stated, "God, if you are real, then I want you to knock me off this platform. I'll give you exactly 15 minutes." The lecture room fell silent. You could hear a pin drop. Ten minutes wentby and the professor proclaimed, "Here I am God. I'm still waiting." It got down to the last couple of minutes when the soldier got out of his chair, went up to the professor, and cold-cocked him knocking him off the platform. The professor was out cold. The soldier went back to his seat and sat there, silently. The other students were shocked and stunned and sat there looking on in silence. The professor eventually came to, noticeably shaken, looked at the soldier and asked, "What the hell is the matter with you? Why did you do that?"The soldier calmly replied, "God was too busy today protecting America's soldiers who are protecting your right to say stupid shit and act like an asshole. So, He sent me."

(With everything going on now a days. Maybe more people should think before they speak, and remember why our troops are over there fighting.)


Posted by Heather Noel :: 8:41 PM :: 0 Comments:

---------------------------------------
Wednesday, August 30, 2006
The pudding Monster
This picture was suppose to go with the last post, but blogger wouldn't let me upload another one to it.
Posted by Heather Noel :: 4:22 PM :: 2 Comments:

---------------------------------------
My Pudding Faced Boy
Oh boy, oh boy, oh boy. Let me tell you what my child did last night. I had just given him a bath, put him some

pjs

, and went into the kitchen to fix his nightly glass of milk. I heard him follow me in there, I didn't think anything of it. He usually walks around the table and shuts the

refrigerator

door. Well I look up to see him grab his kid

cuisine

out of the trash. (Since he is such a picky eater, we've come to find he loves those kids

cuisines

. But they all tend to come with some kind of sweet. We give him the fruit and fruit snacks, but we always through out the pudding. I think he's mildly allergic to it) that being said the meal last night had pudding. Can we say mommy was mad. It took him literally 4 seconds to get covered in chocolate pudding. Did I mention I had just given him a bath!!

OOOOHHHHH

!! So I say "Tanner NO!" which he hates to hear and he

proceeds

to throw a fit (hence the tears). Before I cleaned him up I of course had to take some pictures. I mean come on, who could resist. But he did not like that. I couldn't get one smile out of him for nothing. (He was still upset I told him no). So I take him back to the bathroom and hose him off real quick, and get him all clean again, and ready for bed. My little chocolate monster was out in like 5 minutes. I kept expecting him wake up with an upset stomach, because the pudding was chocolate. (If he eats chocolate, he usually gets a really bad diaper followed by some pretty bad diaper rash, which is why I think he's a little allergic). Hopefully he'll grow out of it. But then again I

don't

really eat chocolate all that much so he wont really be missing out on it. Well I

didn't

get a dirty diaper last night but let me tell you, while I was in the shower this morning, (he plays on the floor in the bathroom) I smelled something rank. Oh yeah, can we say WORST DIAPER EVER!!! The kind where you clothes pin your nose and run it to the trash can praying no one else can smell it.

Ewww

. So no more chocolate for this one.
Posted by Heather Noel :: 4:08 PM :: 2 Comments:

---------------------------------------
Tuesday, August 29, 2006
Summer Colds Suck!!
Tanner's cold is kicking both of our butts. He can't breath through his noes and he's not sure how to clear it. He tries to blow it but it usually turns out to be air out of his mouth, or food, or juice...He's been extremely fussy and clingy. And he wants to sleep. I let him take a nap until 7pm and I woke him up to eat. Plus I was afraid he wouldn't sleep through the night. Seeing he woke up last night at 4am and just watched tv for an hour and went back to sleep. Then to top off him being miserable. I think I'm getting one. And I feel bad because I might have given it to him. I know he has it first, but the girl I sit with in class has had a cold for a week. But he also could have gotten it a Jumpin' Beans when he went last . There were alot of little kids there. Any who. I just wish it would go away. I cant stand for him to be miserable. It breaks my heart to hear him al congested. I cover him in vix vapor rub at night and give him dimatap, but it usually wears off half way through the night. My poor kid. Just look at those pitiful eyes....
Posted by Heather Noel :: 7:37 PM :: 2 Comments:

---------------------------------------
Monday, August 28, 2006
My Toot-Toot
Posted by Heather Noel :: 7:03 PM :: 1 Comments:

---------------------------------------
Guess who got an A!!
Yep I got an A on my first test. Yeah for me. I was kinda worried. I knew I was going to fail but I didnt think I'd get an A either. Woo hoo!! Well things on this side of the world are good. Tanner is still suffering from a summer cold but it seems to be getting better. I'm feeling better too. I went shopping yesterday (and forgot to turn off my away message...sorry Beck). Got me a few new shirts from school. Seeing how most of mine are messed up from Wal-Mart. And my mother in law got Tanner some new clothes for winter. So he should be set. As long as he doesnt gain 20lbs in the next couple of months. SO other than watching a UFC fight (which was awesome) our weekend was really uneventful.
Posted by Heather Noel :: 3:56 PM :: 5 Comments:

---------------------------------------
Saturday, August 26, 2006
blogger beta

I just switched to Blogger Beta and I wanted to see if it was true about no more publishing time.
Posted by Heather Noel :: 9:33 PM :: 4 Comments:

---------------------------------------
Sick Saturday
My little man and I are both feeling bad. I think he's got a summer cold and I just feel blah. So we've been napping and cuddling in the recliner for most of the day. Kind of a wasted day, but then how could a day of cuddling be a waste. Hopefully tomorrow we're both feeling better. I have some school stuff to do and I just hate it when he feels bad.
Posted by Heather Noel :: 6:53 PM :: 0 Comments:

---------------------------------------

To be or not to be...pregnant.

So yesterday I couldnt decide if I was going to post about this or not but after some thought what the heck I can delete it I want. So for those of you who know me, probably know I have have problems with my period (not getting them) and high blood pressure. Which both suck. Because 1. I cant take birth control because of high blood pressure. 2. If I do get pregnant and dont know the meds I take for my high blood pressure could hurt a baby. So that being said if I skip a period I take a test. Just to be on the safe side. So yesterday I took a test. The same one I always take. So when I got this result

- -.

I kinda freaked because 3 years ago that was positive sign. Thats the sign that is still in the one I found out about Tanner. And when I say kinda I mean really freaked out. So I call Scott into the bedroom and I told him and he proceded to REALLY freak. "You're kidding, please tell me you're kidding. I'm gonna throw up" and he looked like he was. I was crying. But for some reason I looked at the box and guess what sometime in the past the year the fools who made the test decided to change the results. Go friggin' figure. So insted of this

- -

, it is now this

- +.

Like Fact plus test. So when I realize this I'm like no, no wait, I'm not. And we both breath a sigh of relief, and Scott just starts to laugh. And I guess looking at it today it is kinda funny. But I wasn't laughing, I was really upset. How could we have reacted that way? How could we have not been happy if I was? I was disappointed in us. And I was pretty much bummed all night. I wonder if we really want another baby, because to me that was just a bad reaction. Scott on the other hand said he definately wants another baby, but I just started school and quit my job. Its just bad timing. It wasnt when we planned. Which is true. Our plan is 2008. But I cant help but wonder, if part of me is bummed because I'm not. I dont know. I know its bad timing. But....I dont know. So here is my advice to anyone taking a pregnancy test. Even if you've taken it before, check the instructions because those fools just might have changed something on you and they probably did it just for kicks....
Posted by Heather Noel :: 7:21 AM :: 1 Comments:

---------------------------------------
Thursday, August 24, 2006
Book MeMe

Originally uploaded by HeatherScott.

I got this from Mir's site (Georgia Benders) I would link but everytime I try it throws everything out of wack.
I think I MeMe for books is awesome!!!


1. Book that changed your life: "Tales of a Fourth Grade Nothing." by Judy Blume!! Who didnt love Judy Blume when they were younger

2. Book that you've read more than once: "Harry Potter" series and pretty much everything by Jodi Picoultt. Actually, if it's on my bookshelf, I've read it more than once. If it's in a box in the back of the house, it wasn't worth reading more than once. (I'm like you Mir with this answer)

3. Book you'd want on a desert island: "My Sister's Keeper"
But this is a very hard question...just one book?

4. Book that made you laugh: "Belly Laughs" by Jenny McCartney (I think I spelled her name wrong)

5. Book that made you cry: "My Sister's Keeper." .

6. Book that you wish had been written: I'll have to get back to you on this one


7. Book you don't enjoy: I dont like sci fi (again something we have in common) or sappy love stories, where you can guess the plot and know how its going to end 3 pages into the book


8. Book you are currently reading: " Harvesting the Heart" by Jodi Picoultt


9. Book you've been meaning to read: So many books I want to read. I am really behinde on my Ann Rule books I'm a huge fan of true crime....and I'm a bit wierd but I've always wanted to read "Helter Skelter".

10 Book you remember as a real page-turner: "Green River Running Red" the book about the Green River killer. I finished it in like 2 days..

11. Non-fiction book that you enjoyed: Again any of my true crimes by Ann Rule.


12. Children's books your family has loved: "I love you Through and Through" and "Oh the Places you Will Go."

And my own personal BONUS ROUND! Book I am most looking forward to: "Schuyler's Monster"!!!! Congratulations, Rob! (Me too!! Me too!!!)

Posted by Heather Noel :: 8:54 PM :: 1 Comments:

---------------------------------------
Tuesday, August 22, 2006
Guess who's going to be on TV

Yep, my little man Tanner. We went to this place called

Jumpin Beans

. Curtiousy of his grandma. Her preschool was invited to go and she was told she could bring Tanner, and us. So when we got there we found out they were filming a commercial. Which was totally cool. This place is awesome.
These things are massive. You can see Scott standing in the front of it. He looks extemely small.
Tanner had a blast. He loved to be around other kids. He got so excited. Everytime they got out of one thing, he got out and followed. He and Scott had a good time. Daddy had to get in some of the time. But he loved it.
They have more than the inflatables there. They have basketball, and air hockey. All of which Tanner got to do. Thanks to Scott and one of the other dads who got into everything with his son. So he took turns. If he did it with his son he did it with Tanner. It was very nice of him.
So my little man is going to be on tv. ON top of it, it was a nice treat for his "20 Month" birthday. We're thinking about having his birthday there this year. He had so much fun I think the money will be worth it. We wil have to see. Well just one more picture before I close. Hopefully all these turn out. (they never end up where I put them.)
Posted by Heather Noel :: 6:20 PM :: 4 Comments:

---------------------------------------
20 Months old today!
Look at those red cheeks
Originally uploaded by HeatherScott.

Yes, my little baby, is 20 months old today. Of course he's not so little anymore. He's grown up so much these past couple of months. He becoming more and more independant. Which makes me sad and happy all at the same time. Knowing that he has found some independance makes me feel like we're doing something right. In the past month he has learned to color. He knows that dirty diapers belong in the trash, and he loves to put them there. His vocabulary contiues to grow, with the newest words being, "My book" and "Hi Dad". He continues to amaze me. The excitement in his eyes when he knows he's done something right. The way he claps his hand with glee when we praise him. And even though he is growing way too fast, he still has the need to crawl up in my lap and hold my hand until he falls asleep. Little does he know that, that little hand of his holds my heart in its palm. Mommy and daddy love you little man, just do us a favor. Slow down, just a little. You wont be a baby much longer, soon you will be a little boy and all the preciouse moments we love will change. For more grown up preciouse moments. So if you would...just a little....

Posted by Heather Noel :: 5:44 PM :: 3 Comments:

---------------------------------------
Monday, August 21, 2006
My first day...

I feel like I should be writing this about Tanner. (lol) Well my first day went okay. My new teachers are pretty nice. The first one I had, had the whole class laughing. It made for a great for a great day. He started the class talking about Tiger Woods, and ended by giving us a test that the whole class failed. It was a test with questions that made you think "outside the box" and it didnt help that you only had 5 seconds to answer each question....Here's an example of one of them "Some months have 31 ones days which one has 28?" First thought Feb. right? Wrong all months have 28 days. The rest of the questions were like that. So the day went by pretty quick. Not too bad. The only things I didnt like was I have an English test every Thurs. and in 4 weeks I have to give an oral presentation!!! Ahhhhh......but it will okay. So the first day jitters are over and I'm ready to get my nose to the grind stone.
Posted by Heather Noel :: 5:52 PM :: 3 Comments:

---------------------------------------

Here I go

Well I 'm getting ready to walk out the door and head to my first class....oh boy.
Posted by Heather Noel :: 8:34 AM :: 1 Comments:

---------------------------------------
Sunday, August 20, 2006
My wish...
scott and tanner
Originally uploaded by
HeatherScott
.
I hope that the days come easy and the moments pass slow, And each road leads you where you want to go, And if you're faced with a choice, and you have to choose, I hope you choose the one that means the most to you. And if one door opens to another door closed, I hope you keep on walkin' till you find the window, If it's cold outside, show the world the warmth of your smile, But more than anything, more than anything, My wish, for you, is that this life becomes all that you want it to, Your dreams stay big, and your worries stay small, You never need to carry more than you can hold, And while you're out there getting where you're getting to, I hope you know somebody loves you, and wants the same things too, Yeah, this, is my wish. I hope you never look back, but ya never forget, All the ones who love you, in the place you left, I hope you always forgive, and you never regret, And you help somebody every chance you get, Oh, you find God's grace, in every mistake, And you always give more than you take. But more than anything, yeah, and more than anything, My wish, for you, is that this life becomes all that you want it to, Your dreams stay big, and your worries stay small, You never need to carry more than you can hold, And while you're out there getting where you're getting to, I hope you know somebody loves you, and wants the same things too, Yeah, this, is my wish. This is my wish I hope you know somebody loves you May all your dreams stay big I heard this song by Rascle Flatts, I think it pretty much speaks for itself.

Posted by Heather Noel :: 4:17 PM :: 1 Comments:

---------------------------------------
Friday, August 18, 2006
Blogging problem

I just wrote this really Long sappy post about my last day at work and my orintation at school, and it says it cant be found. (Go figure.) if it doesnt show up by tomorrow morning I will rewrite it. If you can see it let me know, because I know sometimes ya'll can see them before I can.
Posted by Heather Noel :: 9:56 PM :: 1 Comments:

---------------------------------------
Work, school, and beyond...
And you go like this... Originally uploaded by HeatherScott.

So yesterday was my last day at work. And it wasn't like I thought it was. It was actually easier to say good bye than I thought. Then I had this overwhelming fear that I would wake up today and regret what I had done. BUT I didn't. (whew). I actually woke up relieved that I didn't have to go to work at WAL MART (there I said for those of you who don't know) I've tried not to put where I work out there while I worked there. So now we know for the past ten years of my life I worked at walmart. And all though I was relieved to be out of there, and sometimes a big part of me wants to yell at them and tell them what stupid idiots they are, another part of me has to thank them. Because in the past 10 years I have learned a lot. I have also met some really awesome people. I have made some long time friends, and of course I did meet my husband there. So while I complained often looking back at the past decade I have to say all in all it wasn't an awful experience. Just one that I'm glad I've had and its now over so I can have different experiences... I had orientation today. That went pretty good. It was long. And there was just so much talking. I am a person who likes to see things rather than hear them. I would much rather read all the packets they gave me than sit through 4 hours of talking. Because when they talk I don't always remember. If I see it. It sticks. I was always like that in school too. Show me, don't tell me. But everyone seemed really nice. We got our schedules and books. Good news, I only have 2 classes since I"m starting in the middle of the term. One class in an hour long and the other is 2. And its for 6 weeks. Sept 28 starts the next quarter and I will have 5 classes. So this will be nice easing me back into a school environment. When I got home from work. Scott had cleaned and made me brownies. He is such a great guy. He is a wonderful supportive husband. Who constantly tells me how proud he is of me. And part of me is scared that I will disappoint him. (even though he swears that's not possible). I think that will make me work harder. Because for the next 9 months he will be supporting us while I'm in school. So thank you baby and l love you. Just to sum it all up. My son is a doll. I came home and I sat on the couch, he just walked up to me and gave me a kiss. It just made a good day even better. (because he is kinda stingy with the kisses). So when I get one, its just awesome.

Posted by Heather Noel :: 9:48 PM :: 5 Comments:

---------------------------------------
Wednesday, August 16, 2006
A bittersweet day
Hey...why'd it get dark?
Originally uploaded by HeatherScott.

Indeed. And I'm sure tomorrow will be worse. I was saying good bye to some people who are off tomorrow, and it kind of hit me. Hey as of Friday you wont be working with these people anymore. I've been working with the same people for almost 4 years. I've seen most of them everyday. And thats all going to stop. I know I will stop and visit. But its not the same. Today I had someone tell me that I was the one person who touched her at our job. She made me cry by saying I was the only person that made her feel good coming to work. That I was a good teacher and friend...I always try to be a good friend, but I've never felt like I teach much of anything. I just kind of pass along what's been passed on to me. She then continued to say I was the only one who took the time to listen and try to understand her...(she is spanish and doesnt speak english all that great). It made me feel good to have made her feel important. But then it made me sad that she felt no one else would take the time to help her learn. I'm planning to have someone help me translate a thank you card to her, because I learned a lot from her too. Including a few spanish words, which I could never get right. (lol). But I guess thats what life is about. Everyone impacts your life in one way or another, and I guess the same goes for you. Weather you know it or not, we impact the lives of those around us. I am honored to know that I have done that for at least one person....

Posted by Heather Noel :: 6:31 PM :: 3 Comments:

---------------------------------------
Tuesday, August 15, 2006
Two more days....
Playing with Mater
Originally uploaded by HeatherScott.

Can anyone tell me why I cant just leave work now?! I was so fed up today I just wanted to walk out. I was like what's two days. Screw perfessional courtesy!! I just wanted the hell out. Then to top it off, I had some people try to talk me into staying part time. I dont know how hard it is for them to understand that going to school and work will take too much time away from my family. NOT something I am willing to do. 2 more days...2 more days....

Well now comes my favorite part of the day....dancing in the kitchen with Tanner, taking a bath, reading a story, laying on the couch and going to bed...so I'm off. Hope everyone else has a good night.

Posted by Heather Noel :: 5:24 PM :: 1 Comments:

---------------------------------------
Monday, August 14, 2006
Some issues
Square head Tanner
Originally uploaded by HeatherScott.

So I've been having some issues with blogger...hence the wonderful premade layout from Zoot. Hopefully that will fix the problem...either that our its AOL itself. OR its both. I'm thinking both. I get kicked off more when I'm on my blog. But I still get kicked off even when I 'm not on it. Well work was really uneventful again. 3 days and counting. I cant wait. Its like waiting for Christmas to get here. LOL. Tanner has been a ball or energy today from what Scott says, and from what I've seen. All good though. He is testing the waters though. Seeing how far he can go before saying no. He does stuff that he knows is wrong, just to see f he can get away with it. I think we have a rebel on our hands. Oh joy!! (smiles).

Posted by Heather Noel :: 4:24 PM :: 5 Comments:

---------------------------------------
Sunday, August 13, 2006
Underconstruction....

I'm in the process of changing colors and stuff...so bare with me while they dont match. Because right now...they really dont.
Posted by Heather Noel :: 6:10 PM :: 0 Comments:

---------------------------------------
So we're up and running!!
Fingers taste good.
Originally uploaded by HeatherScott.

So its been a couple of days since I've had a chance to write. We've been pretty busy. First of all, my dad fixed our computer, and its up and running. (doing happy dance). We also went to NC yesterday to take my sister home. So we got to visit with my parents for a day. Which is great. Tanner loves being with his Nani, and Papa. He didnt understand why Auntie Kristi didnt come home with us. He cried alot on the way home. But he was still pretty good. At least it didnt rain. I would rather him cry than drive in the rain any day. I say that because on the way to NC it rained the whole way. Not just drizzle I mean rain that makes it hard to see. Then there was a really bad accident right out side of NC. It was so bad we were holding our breath when we drove by. I hope those who survived will be okay.
Tanner is a mess. He is learning so much, and becoming such a comedian. I love it. He makes us laugh everyday. He has definatley come into the terrible twos...oh my. Things at work are fine. 4 more days...I'm getting excited. Well thats it for now. I' m sure I left something out. I finally uploaded some more pics to flickr so check them out.

Posted by Heather Noel :: 5:28 PM :: 0 Comments:

---------------------------------------
Tuesday, August 08, 2006
Excuse me Mr.Music Man...
So I thought I'd be funny today and let Tanner play with Scott's gutiar. No he doesnt play but maybe one day Tanner will. Its too cute to see him sit there and strum the chords. He acts like he really knows that he's making music. I love it. Scott and I love music and I hope this is a love we will share with Tanner. From the way he dances at the sound of any note, I'm sure he will.
And not only did he play a gutiar today, he said "Excuse me" yep he did. His first connected words. Not that I think he understands why he said it, I said it when I sneezed and he repeated it. We thought it was a fluke at first but he then went on to say it 3 more times. So bring on the talking....we are so ready for it.
Posted by Heather Noel :: 5:51 PM :: 2 Comments:

---------------------------------------
Monday, August 07, 2006
And its done....
So I did it, I turned in my 2 week notice. Woo Hoo!! 2 more weeks, 2 more weeks. I'm not happy or anything. I was scared as hell. I dont know why. They did try to talk me into going part time. Which is kind of something i really thought about, but it would be too much with Tanner and work and homework. So I said no. Other than that work was fine. I'm tired. I can tell I've been off for a week. My sister stayed for the week and Tanner is having a ball. He loves his auntie Kristi. We've been working on his body parts. He can show you and say noes. If I ask him to show me my eyes, he takes off my glasses,and laughs. And he can show me my mouth. Never his own, he always wants to show me, but hey its a start. When I start school, I'm hoping to have some extra time to work with him, trying to get him to talk some more. Put words together with items and recognize it. He's been feeling better. We've been playing with his diet, and it seems to be working. He still whimpers when he poops. But I think he's just scared that it might hurt again. Well I'm off to make some dinner and give him a bath. Sorry for the slacking. There really hasnt been too much to post about. Until later all.....oh if you want a good laugh (you will get a kick out of it Beck) check out this

post.


Posted by Heather Noel :: 6:36 PM :: 3 Comments:

---------------------------------------
Saturday, August 05, 2006
Technical difficulties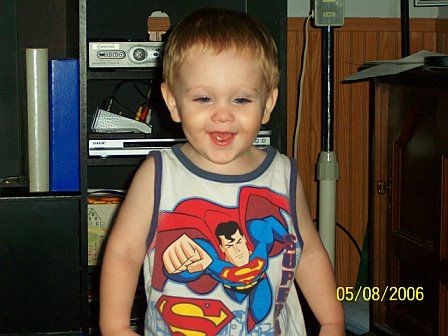 Well for the next week we may not be online alot. Or I may not be posting pictures so much. My dad came down this weekend to fix our computer and for some reason after he crashed it,it didnt want to be reloaded. So its going to NC with him to be fixed. He was awesome though and left his laptop here for us to use. It just take some getting use to. Uploading picutres and all. So ifI dont get any new pics on here right now I apologize. We will just see how it goes. Well the countdown begins untilI put in my notice at work, and with what happened when I went in there today is going to make it all the easier. I wont go into it now as its late and Tanner is tired and a little fussy. So when I get up in the morning I will post about it. Well I'm going to try a picture one more time, I guess we will see if it works.
Posted by Heather Noel :: 10:40 PM :: 1 Comments:

---------------------------------------
Too cute
So for now I'm going to post some cute pictures of my son, who seems to have plumbers diaper (see the crack). Now he does this himself. He puts his two thumbs in his diaper and pulls. I think he's trying to be like his daddy who always seems to have his thumbs in his back pockets. Of course it doesn't have the same effect on Scott that it has on Tanner. LOL.
And here we have him riding his pony backwards. He's had this thing almost a year and he's just now showing interest in it. Go figure now that its almost too small for him. I thought it was funny him riding it backwards.
Posted by Heather Noel :: 8:37 AM :: 3 Comments:

---------------------------------------
Friday, August 04, 2006
So I guess I'm due
Well the past couple of days have been extremely busy so I've been slacking on the posting. Lets see. Yesterday I registered for school, found out I start on the 21st. Seems like tomorrow. Today I went and applied for financial aide. Got a big chuck of help. And whats left we dont have to pay back for a year and half, until after I graduate, and get a job. For those who dont know, I chose to go into medical billing. Beck does it and she enjoys it. And there are opprotunities to work from home after you have expiriance. Today Scott and I went and got me few things for school, seeing its tax free weekend. Just the basics. What do you need for college? What else? Tanner seems to be doing better. I think we've finally got the right combination of food going in him now to help him poop. I'm keeping my fingers crossed. He was at his grandmas today while Scott and I ran around. He went with me yesterday to register for school, and I kid you not when I say he was drawing the girls out of class so they could see him. He is such a big flirt. Well I'm off to bed. I've got lots to do tomorrow. My parents and sister are suppose to be coming down Saturday. Until later.
Posted by Heather Noel :: 12:52 AM :: 1 Comments:

---------------------------------------
Wednesday, August 02, 2006
Guess who's going back to school

So it official!! I'm going to college. Oh god! After 11 years I'm going back to school. I enrolled today and I start on August 21. I'm kinda excited and scared all in one. Well there isnt too much to post. I've been running around all day. I have to go back tomorrow to fill out financial aide stuff. So I promise to write more tomorrow.
Posted by Heather Noel :: 9:53 PM :: 5 Comments:

---------------------------------------
Tuesday, August 01, 2006
Cant always blame daddy
Especially since I was the one who fed him lunch today...and this was the mess he made. Cute for a picture. Hell to clean up. I haven't posted in the past couple of days, because quite honestly there isn't anything going on. Tanner is starting to have problems going to the bathroom again. Its like he's just giving up he whimpers and sits in my lap until he's done, or until it passes. I'm doing everything the Dr suggested. Now I'm working on suggestions from other moms who've dealt with it. So we will see. On the hunt for a new job. I'm going tomorrow to apply at 2 places, I was suppose to go yesterday but Scott didn't wake up until late and I didn't want to take Tanner, not real professional. I'm also thinking about just going back to school. I have an appt tomorrow with a guidance counselor to see what I need to do, or see if I can get into to school this semester. So we will see how things go. I will update as soon as I hear something. Until later.
Posted by Heather Noel :: 4:20 PM :: 0 Comments:

---------------------------------------