Monday, October 31, 2005
Catch up from Friday
Well its been an eventful few days. I wake up Friday to find the cable has been cut off which means so has our modem. I was more than a little pist. So I call and blast them out because our bill wasnt due until today. So they kindly tell me they misprinted the bills and they were due Thurs. So I was like its not my fault you misprinted the bills, thats not fair to us. Yadayadayada....of course I didnt get anywhere. So thats why we've been off line for the weekend, because Scott didnt get paid until this morning.
So we had our annual Oct. birthdays party. It was fun. Everyone got to see Tanner. Of course he loved that. He got to play with a 3 year old Ethan and he loved that too. I think Scott had more fun with confetti poppers than anything though.
Saturday my parents brought Kristi down for a visit, which is cool. She will be here until a week before Thanksgiving. But when my poor husband woke up he could barely move. And when he did he got sick. Which was all day. He couldnt keep anything down. So he stayed at his mom's until I got home. He couldnt even keep down 7 up. So when we went home I put him to bed. Which was still pointless. He didnt want to go to the dr. (typical male) so I think it was midnight when I called the dial a nurse and she said he needed to go in now, since he had been throwing up for over 10 hours....so needless to say we spent the next 7 hours in the ER. Where they had to hook him up to IVs to rehydrate him. They gave him medicine through his IV that finally made him stop throwing up. They took xrays of his kidneys, prostate, stomach. They were worried because he hadnt went to the bathroom in 8 hours...but of course he didnt have anything in him. So he was poked and proded for them to say its a bug...a BUG. Which is a realife since they made me thing it could have been more seriouse. I was suppose to be at work at 7 am, and since we were still in the ER until 630 I didnt go. So our Sunday was pretty much a recovery day. Scott slept. He finally got up and ate some toast and drank some 7up and kept it down. So later we tried chicken broth and horray he kept that down too. So he's feeling tons better. I dont know if he'll go to work today. But at least he's feeling better. Well I' m off for the next two days so I'm sure I will be posting later. Especially with Halloweens pics. Until later ya'll.
Posted by Heather Noel :: 10:14 AM :: 0 Comments:

---------------------------------------
Some pics from Friday
Tanner playing with Ethan
Scott & Tanner
Up close and personal
The big mess my husband made on his mom's floor
Posted by Heather Noel :: 9:53 AM :: 0 Comments:

---------------------------------------
Saturday, October 29, 2005
It might be awhile

Just a quick note, which will probably be the last one until Mon or Tuse. Our computer is down, and I'm using the inlaws again. Our little party went great and when the computer is working I'll post some pics. Scott is sick. If he's not better by tomorrow we will be heading to the Dr. Well I'm off. I hope everyone has a great Halloween. Later ya'll
Posted by Heather Noel :: 7:03 PM :: 2 Comments:

---------------------------------------
Thursday, October 27, 2005
Day off
We've had a good day off. We were lazy the first part of it, but by 100pm we were on the go. We went to Wal Mart and finished birthday shopping. We have 4 birthdays this weekend. UGH. So I had to get gifts and the stuff to make meat balls for the party tomorrow. Scott's family has an annual Oct birthday party and an annual Feb. birthday party. Becauase there are so many in those 2 months. Well the Octobers pary is special for me and Scott, because it is where he proposed to me. So its been 2 1/2 years ago that we were in engaged. Wow. It doesnt seem that long. After we went shopping, we went to his mom's so she could cut his hair and of course we got invited for dinner. We got hom around 9 and started cleaning. We've got alot done.
Just to update on our new neighbors...I just dont know. They havent been a problem. Nothing else has been said about the property line. But they play there music loud. Of course all they have is their car radio, because the electric hasnt been hooked up yet, neither has the water or the septic tank...so I dont know how they are living there. But they are. The worst part is its been cold here at night and I know they're freezing. So I kinda feel bad for them, but then again I'm like they should have planned better for this. They got the land in June. But thats me. If I had 5 months before I moved here I think I would have made arrangements to stay somewhere while everything gets hooked up. From what I hear there could be a problem with them having a septic tank put in because they are so close to the propety line. I guess we will have to see. Well I'm off to do another load of clothes before I hit the hay. Later ya'll
Posted by Heather Noel :: 11:07 PM :: 0 Comments:

---------------------------------------
In and out of the toy box
We keep his toys in a laundry basket...its just the right size for him to get the toys out of. And here lately its just the right size for him to crawl into too. He is all boy, my little dare devil.
Posted by Heather Noel :: 11:04 PM :: 0 Comments:

---------------------------------------
Wednesday, October 26, 2005
Pic of the day...for yesterday too
Its getting a little cold. These are from when we got home from grandmas. I shouldnt say a little cold. For GA its really cold.
Posted by Heather Noel :: 9:40 PM :: 0 Comments:

---------------------------------------
Tuesday, October 25, 2005
Spanky
Well our family dog Spanky died today. He's been in our family 13 years. We got him in 1992 when we lived in AFCENT. We got him right after we moved there. He's been with us forever it seems. Well rest in peace Spank....we love you.
Posted by Heather Noel :: 10:52 PM :: 1 Comments:

---------------------------------------
Monday, October 24, 2005
Just....I dont know, something
Well I had a good couple of days off. I went to my in laws and me and Kathy ( my mother in law) made candles and soaps for Christmas. It was actually kinda fun. I like making soap better than candles. So my weekend at work just sucked...as did today. I swear I've done the jobs of about 15 people in the past 3 days, no joke. All because someone is coming to do a documentry on "us". Apparently there was a negative one done on the company and for some reason they decided to have a positive one made...and at our store. If anyone has ever been in our store you might have the same puzzled look I am wearing. The company as a whole is not bad that's why I've been there 10 years, but our store is just in the wrong part of town...when people come to our store and they are use to another one you always hear someone say "Well we are in Southside" and the side of town the store is in has the bad kind of reputation. But the people have earned it. You will find more rude than nice people. So it will be interesting to see how people respond when they are asked questions. Some people are worried because we were asked to have our families come in and shop....hmmm. Anyways they've stressed me out these past 3 days. The place is a mad house trying to get things ready for tomorrow.
Well at least I get to come home to my little "toot" thats what I call him. I dont know if I 've ever said that before. As you can see from the pics below some gave him a twizzler yesterday and he went to town. He's becoming a little dare devil. For the past couple of days he's been getting out of his walker, but we're there to see it. Well today Scott put him in the walker to take a shower and he said 5 minutes later a little hand reached under the shower curtain. So I guess there is no use to put him in the walker anymore.
And last but not least...we are getting new neighbors. I already foresee a problem. The land next to us has been empty for the 3 years we've been here and today someone knocked on our door wanting to know where the property line was. So Scott showed them, and the guy says well the lady who's moving here says you're on her property. Which we're not. So tomorrow I've got to call and see if we can have a copy of the survey. Yippie!! NOT!! Well I'm off to put someone to bed. Later ya'll.
Posted by Heather Noel :: 7:36 PM :: 2 Comments:

---------------------------------------
Pics of the day
Look real close you can see his teeth
Posted by Heather Noel :: 7:31 PM :: 0 Comments:

---------------------------------------
Saturday, October 22, 2005
My wonderful Husband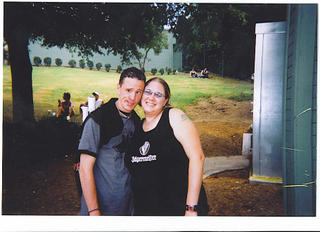 Not too much going on. I just wanted to say I have a wonderful husband!!!! I came home, my house was spotless...he even hung up the Halloween decorations and started on Tanner's play area. It was wonderful to come home and not have to worry about "Where do I start" especially after the day I had. Well I'm off to bed. Until later. Oh yeah in case anyne is interested. This pic was taken 3 years ago at Ozzfest. It was like 2 months before he proposed to me. Anyways, later.
Posted by Heather Noel :: 10:47 PM :: 1 Comments:

---------------------------------------
Pic of the day...He's 10 months old
Posted by Heather Noel :: 10:32 PM :: 1 Comments:

---------------------------------------
Friday, October 21, 2005
Pic of the day
I didnt take one today, but this is another one from yesterday.
Posted by Heather Noel :: 10:38 PM :: 1 Comments:

---------------------------------------
Thursday, October 20, 2005
My list of 100
So I worked really hard to finish this on my last blog so I'm putting it on here....
List of Facts about ME 1. I'm 28....will be 29 in Feb. 2. I've been married for a year and a half 3. My son is 7 months old. 4. I am a natural blonde even though you cant tell now 5. I've got blue eyes 6. I love to read. 7. I love all music 8. I am a huge Harry Potter fan 9. Rascle Flatts " God bless the broken road" is my favorite song 10. I met my husband at Wal mart 11.I have 7 tattoos 12. I want 2 more 13. I have four more tattoos than my husband. 14. I hate my job 15. I have a little sister that lives with us 16. I have 2 dogs and a cat. 17. My favorite color is blue 18. I'm an army brat 19. I've lived in Germany and Holland 20. I spend more time on the computer than I should 21. I was a cheerleader for one season in high school 22. I love to take pictures. 23. I drvie a green hyndai accent 24. My favorite sporst are football, and NASCAR25. My favorite driver in Dale Jr. 26. I still have both of my parents (thankfully) 27. Both of my grandmothers are still alive 28. Both of my grandfathers have been dead almost 20 years 29 My wedding song was "A moment like this" 30 I am still friends with my best friend from 3rd grade 31 I am still friends with 2 of my best friends from high school 32 My favorite move is ...besides the Harry Potter ones is The Notebook 33. I love scary movies 34 I've seen Ozzy Osbourne in concert 35. I've also seen Korn and Marilyn Manson 36.I graduated high school in 1995 37. I have been in love so I thought 2 times 38 I have only been in TRUE love once 39 I believe there is only one person you are meant to spend your life with 40. I know all the words the play house disney shows... 41. I am a morning person 42. I live in Georgia, but secretly want to move back to NC 43. I've been to Spain, France, & Belgum 44.I've had my tounge pirced...not anymore but once upon a time 45. I love the fall 46. I love being cold and snuggling up under a warm blanket 47. I wish I would've gone to college 48. I am a very forgiving person 49. My favorite disney character is Tinker bell 50. I have never ridden a motorcycle 51. My kitchen is decorated in cows 52. I truly like my in laws 53. My favorite tv show is CSI las vegas....(I love all crime tv shows...especially the true stories)54. Ann Rule is my favorite author 55. I can honestly say that my sister is my best friend 56. I look at my husband every morning and I know exactly why I fell in love with him 57. I hate cleaning 58. I hate folding clothes even more 59. When I was in school I wanted to be a journalist 60. On our fisrt date, Scott took me to see Tears of the Sun 61. I collect faries and cows...what a combination 62. I love to scrapbook when I have time 63. I want to get rid of our 2 dogs and get a bassit hound 64. When I get upset I spend money....bad, bad, bad 65. Sometimes I feel like I'm not a good mom or wife 66. I am an aquaris. 67. I love to take pictures 68. I am liberal most of the time.....but once in awhile a conservitive idea agrees with me too 69. Sometimes I'm not sure if I want more kids 70.I havent been to church since I was 8 months pregnant...I really should go more 71. I belive in angels and ghosts 72.I belive that there are some real phsyics...but a majority of them are out for money. 73. I also belive in magic....or mysiticism whatever they call it now a days. 74. My favorite place in the whole world to be is locked up in the house with Scott and the baby 75. I think everyone should live life to the fullest because we are not promised tomorrow 76. I have come to realize that I am a jelouse person when it comes to those I love 77. I have a caffine addiction....if I dont have at least 3 sodas a day someone better have some exdrine 78. I can honestly say that I have no regrets in my past, everything I've done, or whatever has been done to me has put me on the path to where I am now. Happy. 79.I am currently taking a class for medical assisting so I can leave my current job. 80. My biggest wish is to be a stay at home mom.... 81. I am paranoid for my son to go to school now a days. Homeschooling sounds better and better 82. On my 21st bday I had 21 shot of tequilla....I dont remember much but I do remember that ...lol 83. I hate the taste of beer, and I only drink it after I'm buzzed. 84. I have not had a drink in over a year. I've not been drunk in about 3 85. Alcoholism runs in my family and I do not think it skipped me, thats why I dont drink often 86. I hate to be the only one who cleans, if I have to so does everyone else. 87. I dont answer the phone if the number does not show up on the caller id 88. When I go grocery shopping I absolutly hate coming home and having to put the groceries up...shouldnt there be a house elf for this... 89. I love to give my son a bath...seeing him excited about the water makes me laugh 90. I would love to have time to take a bath and realax, we have a huge garden tub, it would be nice to use it. Only 10 more to go...woo hoo. 91. I have come to realize here lately that I get offended easily by people I dont really know. 92. I absolutly think the most beautiful thing in the world is my son's smile.... 93. I dont usually cry over a song, BUT the Rascle Flatts song "Skin" makes me cry everytime 94. I dont usually admit it but I am a Star Wars fan...especially the new ones. 95. I love to write...it doesnt really matter what. Stories, letters, poems or in my blog or journal.... 96. I hate bugs....I'm not scared of them, I just really dont like them. 97. I love thunderstorms .98. My ideal evening is dinner and a movie with Scott and cuddling up in bed later on. 99. My favorite quote is from the movie " A walk to remember" "Love is like the wind, you cant see, but you can feel it. 100. I find it extremely hard to complement myself or tell anyone what I like about myself. YIPPEEE....I did it. 100 things. And just for fun 101. I never thought I would actually finish this list...lol. The views expressed by this user are not endorsed in any way by
ModBlog, L.P.
Current time is 9:02PM. Rendered in 0.056 seconds.
©1999-2005 ModBlog, L.P.
ModBlog™:
RSS Feed
Report Abuse
FAQ
Privacy
Team
Submit Suggestions
Contact Us
Posted by Heather Noel :: 7:59 PM :: 2 Comments:

---------------------------------------
Pic of the Day
So on my last blog I tried to put a new picture up daily...I think I'm going to try and get back into that routine.
Posted by Heather Noel :: 7:43 PM :: 0 Comments:

---------------------------------------
Long Day
Gawd...we've been gone all day and I am bushed. Got up and went running around with my mother in law. Went to walmart and got Tanner's Christmas and Birthday off layway. I swear we were in walmart 3 hours. UGH. Then we went back to Scott's mama's and we were suppose to do some arts and crafty things but we were both so tired we decided to wait until tomorrow. So now I am praying for some energy to clean. I hate cleaning. But it needs to be done. Oh well I'm off for now. Later everyone.
Posted by Heather Noel :: 6:06 PM :: 1 Comments:

---------------------------------------
Wednesday, October 19, 2005
I did it!! I did it!!

I finally did something without help. Can you believe it. I got the layout working. Yippee. I'm so excited. My links didnt show up, but its late and I will work on those tomorow. My comments dont seem to be working either, but like I said tomorrow. Okay I'm going to bed, my honey is home.
Posted by Heather Noel :: 11:56 PM :: 3 Comments:

---------------------------------------
His first black eye
My poor baby got a black eye today. I was picking him up from his grandma's and he was playing around her coffe table and he fell. I thought he just bumped his chin until I was putting him in the car seat I saw his poor eye. Its got a small cut and bump and a bruise...:( my poor little guy. He's been clingy ever since. I feel so bad. I know its just a first of things to come but it doesnt make it any easier. Its kinda hard to see it in the pictures, but he wouldnt let me take one when he was awake. Well I'm off. Its kinda hard to type while holding a baby...later ya'll.
Posted by Heather Noel :: 7:15 PM :: 1 Comments:

---------------------------------------
Sunday, October 16, 2005
Outside....
Well my day went pretty good...as you can see from some of the pics Tanners and Scott's went better. I miss days like today. Scott took him outside in the walker and let him go all over outside. It was a beautiful day. Then they all went to see clifford and a clown. While I had to work (sigh). Well I just thought I would share some pics. I guess I have to do it seperately. Sometimes I really miss Modblog. Later ya'll
Posted by Heather Noel :: 8:54 PM :: 1 Comments:

---------------------------------------
Being silly in my litte beanie cap....
Posted by Heather Noel :: 8:53 PM :: 0 Comments:

---------------------------------------
Look Mom, NO hands!!
Posted by Heather Noel :: 8:52 PM :: 1 Comments:

---------------------------------------
Tanner & Clifford the Big Red Dog
Scott and his mom took Tanner to see Clifford at the Grand opening of Babies 'R Us today. Of course I had to work.
Posted by Heather Noel :: 8:49 PM :: 0 Comments:

---------------------------------------
Feeling like a dummy
please look at the picture, read what her father says, then forward his message on. Maybe if everyone passes this on, someone will see this child. That is how the girl from Stevens Point was found by circulation of her picture on TV. The internet circulates even overseas, South America, and Canada etc. Thanks Please pass this to everyone in your address book. We have a store manager (Wal-Mart) from Longs, SC who has a 9 year old daughter who has been missing for 2 weeks. Keep the picture moving on. With luck on her side she will be found. I am asking you all, begging you to please forward this email on to anyone and everyone you know, PLEASE. My 9 year old girl, Penny Brown, is missing. She has been missing for now two weeks. It is still not too late. Please help us. If anyone any where knows anything, please contact me at: zicozicozico@hotmail.com " href="mailto:zicozicozico@hotmail.com%3e">mailto:zicozicozico@hotmail.com%3e I am including a picture of her. All prayers are appreciated!!

So I do what most people would do I send it...even though I had a nagging feeling I had seen this before and it was way longer than 2 weeks ago, but just in case I mailed it. Almost immediately I got 2 emails from 2 differant friends that this is fake. I guess its the time of year people pull the old urban legends up. But this one kind of bugs me. I mean what if someone is really missing a child and they try the internet for help? Who's to know if its true or not. Anyway if you get this email...know its not true. Later. Just in case you want to read about it..... Urban Legends Reference Pages: Inboxer Rebellion (Penny Brown)


Posted by Heather Noel :: 8:15 PM :: 0 Comments:

---------------------------------------
Friday, October 14, 2005
Google...
So I saw this on my friends site and thought I would give it a try....so here are the 10 things that "Heather Needs.."
1.Heather needs a rest...
2. Heather needs a childhood
3. Heather needs two therapist (lol)
4.Heather needs men now
5.Heather needs to be kept moist (seeing I am a plant)
6. Heather needs volunteers
7.Heather needs more Senate and Assembly committee information
8. Heather needsa highly structured environment with a disciplined daily routine. ...
9. heather needs to be as long as possible for thatching, ideally about 15 yearsold. It needs to be pulled out by the roots to give the full length of the ...
10. Heather needs physical therapy in the form of feeling
So anyone who reads this might think "Heather" is some kind of over sexed, plant who has some kind of feeling issues....go figure. LOL.
Posted by Heather Noel :: 5:23 PM :: 1 Comments:

---------------------------------------
Thursday, October 13, 2005
My smile maker
Well my day started off pretty bad. I get ready for work, leave at 630 am, drive to the stop sign right down our street. And guess what?! I have a flat tire. I have never had flat tire in my life. I've had my car for 6 years and I've never had a flat. Well needless to say I had to go back home. It was still dark so Scott couldnt change it anyway. At least today was my day off. I was just going in to make a little extra money. SO I didnt feel too bad that I didnt go in. It just sucks, because I need new tires now. I was looking forward to the extra money. Well I got to spend my day with my little man. Watching him trying to master walking. He's getting more brave. He's definately a little dare devil. He can climb out of his walker now. Over his toy box. We definatlely have to keep our eyes on him. Well I'm going to bed, my head is killing me. Hopefully these meds I took will kill it soon Later every one.
Posted by Heather Noel :: 8:42 PM :: 2 Comments:

---------------------------------------
Wednesday, October 12, 2005
My big boy!!
Nothing much to write, just thought I would post a new pic I just took of Tanner. He's getting so big (sigh). Later ya'll
Posted by Heather Noel :: 7:18 PM :: 0 Comments:

---------------------------------------
Tuesday, October 11, 2005
General Rambling....
So today was a pretty good day. No drama. So thats good. I forgot to add yesterday that my little man also said a new word "Kitty" of course our cat was no where around but he said it none the less. (I dont know why but it keeps jumping from here to there. So I hope this makes scence) Well I remember today that he has a Dr. appt Fri for a flu shot and I'm little worried. A lot of people keep saying its going to give him the flu. He's going to get sick. So of course I'm worried now. The Dr. said she recommend for all babies to get them. But I dont want to make him sick, but I want to protect him too. Does any one have any expiriance with this with their little ones? Well other than that there is nothing really to rant about. Oh yeah, I apologize to those of you who read this on a daily basis. I havent taken any new pictures lately and so I've just been putting some older ones, that you probably saw on my other blog. Wait a sec that was something else I wanted to kina rant about...I was going through other blogs from Modblog of course mine is down, but I saw several who still had pictures on them. What's up with that? I could deal with the plain background, but all my pictures are gone. I'm jealouse that not everyone lost everthing. (I know that sounds bad) anyways I'm off to eat and give my little ball of energy his last bottle of the night so we can both hit the hay. Early day tomorrow. Later ya'll.
Posted by Heather Noel :: 7:33 PM :: 1 Comments:

---------------------------------------
Monday, October 10, 2005
First Steps
Well our little man took his first steps today. 7 to be exact. I am so glad that I got to see it. He is growing up too fast. It seems like yesterday he was just born. Man. What am I going to do? I miss him being little, but I am so excited about him becoming independant and learning things on his own. Its the best feeling in the world when he accomplishes something new. I feel like I'm learning it all over again with him. I keep thinking "He'll be one in 3 months" where does the time go? I know times flies when you're having fun, but it should slow down when we have kids. Everything happens so fast. Well now that I'm a little bummed that my little man is growing up, I'm going to finish dinner. Later ya'll.
Posted by Heather Noel :: 7:08 PM :: 1 Comments:

---------------------------------------
Sunday, October 09, 2005
or should I say...?
By george Tiff's got it. Thank you so much for all your help with my layout. I'm sure by now you're tired of doing them for me...lol!! Thanks again, you're the best
Posted by Heather Noel :: 11:11 PM :: 1 Comments:

---------------------------------------
By George I think I've got it...
So now I can see everything I'm suppose to see, and find this thing. So I think I'm okay. For now. I've been so ticked off about not being able to get this to work. But now that I have the basic jist of it. I'm okay. Not too much to report today. My sister and parents went home today which kinda bums me out. I probably wont see them again for a month at least. But I'm glad we got to spend some time with them. Hopefully we will be able to go to NC in Jan or Feb to spend a week. Who knows. Scott got some news at work. GOOD news. They've offered him a promotion already. He's only been there 6 months. I am so proud of him. We'll I'm off to spend some time with my little guy before he goes to sleep. later ya'll. Oh yeah we have 2 more teeth.
Posted by Heather Noel :: 6:52 PM :: 0 Comments:

---------------------------------------
Saturday, October 08, 2005
Just a note
I have redone this blog 3 times. So this time I just copied my last 3 post. I just wanted everyone who reads this to know this will be the last time. IF I cant get it right this time then I give up. Have a good night ya'll.
Posted by Heather Noel :: 9:20 PM :: 1 Comments:

---------------------------------------
Last try.
Saturday, October 08, 2005
Family visit
Well, my parents came down today. Yippie, and I was actually able to get the day off to spend with them. I've missed them and Kristi. Of course all they've really missed was Tanner. Mom and Dad went nuts at Disney world and bought him alsorts of clothes. Then they come down here and what do they do? More clothes, toys, a movie and 3 new books. I swear. My child is so spoiled. I need a bigger house for all the toys he's going to be getting come Christmas and his birthday. I cant say anything though I bought him a ton of stuff too. Well as you can see my computer is up and running thanks to my dad. Thank goodness because I was so going through withdrawls. Well I 'm going to go and see if I can figure this stuff out. Until later ya'll posted by Heather Noel @
10/08/2005 08:23:00 PM
Thursday, October 06, 2005
So I was playing with this last night and my curiouse little man thought he would pull a cord out of the back, and see what happens. Haha. So of course the computer shuts down. I plug it back in and it still doesnt work. Then Scott comes home and plays with it and guess what? I think he made it worse. So I am using my in laws to write this. My parents will be here Sat. and my dad is a computer genius so it will be fixed until then. So until Sat everyone. Have a good Friday. I will probably be going through withdrawls by then. Later ya'll. posted by Heather Noel @
10/06/2005 01:37:00 PM
Wednesday, October 05, 2005
Testing...again
So it seems I'm blog illiterate every where I go. So this is my secong attempt to get this working, I think I'll hold off on the cutsie background until I am more familar with everything. posted by Heather Noel @
10/05/2005 03:19:00 PM
Posted by Heather Noel :: 9:06 PM :: 0 Comments:

---------------------------------------
Saturday, October 01, 2005
Phone warning

General Rambling: phone warning Comments: 0 Date: 10/1/05 at 2:34PM (1M2d ago) So my in laws got this email warning them about people calling your house and claiming to be an AT &T operator. They say they are doing some kinda check and ask you to push some numbers. First 9 then 0 and finally #. Of course now that you've done this you have just given him acess to your phone. Now he can charge all sorts of long distnace calls and so forth. The email said that alot of inmates use this to call people. So BEWARE. If someone calls and asks you to push some numbers for them be Careful. Anyways I'm not sure if its true but better to be safe than stuck with an outrageouse phone bill. Later ya'll
Posted by Heather Noel :: 6:09 PM :: 0 Comments:

---------------------------------------