Tuesday, May 30, 2006
Half way there
Am I cool or what
Originally uploaded by HeatherScott.
Well our vacation is half way gone. Yuck!! It sees like the days are just flying by. Tanner is having a blast while Scott and I are just relaxing. Which is what we needed. Tanner of course is staying in the water. We visited some family yesterday. Tanner didnt like that because my Aunt Dorthy and Uncle Ray are old and there was nothing for him to do. He wanted to touch everything and unfortunatly you cant do that in their house. Other than that there is not much to update. We are going to visit some of my friends today. Oh yeah, that Harley power wheel he is on, was given to him my frined Nicole. Her son is too big for it. Needless to say when he figured out how to make it go, he was gone. The only problem is finding a way to get it home to Ga. Scott will have to take it apart because I'm not driving 4 hours with my trunk tied shut. Oh well. Thats it for now. I might post some more later. There are more new pics on our Flickr site.
Posted by Heather Noel :: 10:06 AM :: 1 Comments:

---------------------------------------
Sunday, May 28, 2006
So far on our trip
Funny Face Originally uploaded by HeatherScott.

Well we've been here for 3 days and we've been relaxing and having fun. We have come to find out that Tanner is a fish and a daredevil. My parents have a pool and he loves the water so we've been in for the past 2 days. He not scared. He goes under water, he lays on his belly and tries to swim. We took him out of the pool for little while to rest and he wouldnt have it so he decded to crawl right over the edge and get back in. (We were right there). He gets on the floats and climbs right out of them. So I think when we get back home I am going to call around and find out where I can get baby swimming lessons. My parents said they would pay for them. We have visited a few friends, I think tomorrow we're going to see some family. I took him to my friends Nicole's and he ended up leaving with a power wheel Harley. He loved it. I havent got those pictures uploaded yet. Most of the pictures I've uploaded to day are off of my dads camera. He leaves on Tues for business trip to Va, so I wanted to make sure I got the ones I wanted. So there will be alot more. Well thats it for now. Check out the rest of the pictures HERE! Until later.

Posted by Heather Noel :: 7:42 PM :: 2 Comments:

---------------------------------------
Friday, May 26, 2006
Just so everyone knows
What Mommy
Originally uploaded by HeatherScott.

I couldnt post that we were leaving for NC yesterday because my dad reads my blog, and that would have ruined the suprise. We werent suppose to show up until Wed. but Scott got 4 extra days off so we left yesterday when I got of work. Its been so nice already not to have to worry about work. I think we all needed to get out of Augusta for awhile. And this is more than a weekend we actually get to stay for 8 days. I get to catch up with some of my old friends. Which I have missed. Some of them..most of them havent seen Tanner since he was like3 months old. So now its like WOW is he that old already? I will try to update daily. But you wont see me online as much. My dad works from home alot and he's on the computer most of the day so I cant stay signed on like everyone is used to seeing me. Well let me go. Everyone is passed out and I'm not tired. Figures. We'll I'm going to play on the computer awhile. Later.

Posted by Heather Noel :: 10:04 PM :: 0 Comments:

---------------------------------------
Monday, May 22, 2006
Tanner is 17 months old today
Baby Love
Originally uploaded by HeatherScott.

Yes my baby is 17 months old today. Gawd!!! He's growing up so fast. Its just not fair. I want a time turner like they had in Harry Potter so I can keep going back when he was a baby. (It seems only fair). Well I saw this on someone else's blog. I'm am going to list 17 things that my little "Toot" does that I ablsouluty love.

1. He wakes up every morning with a smile on his face
2. He has just learned to hug, and when he sees us he runs and hugs our legs.
3.Kisses!! Kisses!!! KIsses!!
4.The way he says baby...its more baaaby, baa like a sheep
5.When he falls asleep he still puts his little butt up in the air
6.The way he brings me his favorite book, and wants me to read it over and over again.
7.He's starting to dance, and he knows how to shake his money maker
8. He always has to sit on my lap while I'm on the computer and helps me type
9.The silly faces...oh the faces
10.When he gets mad, he goes limp and buries his face in the floor. I know I shouldnt laugh, but I cant help it
11. I love that his favorite word is "Mommy" Mommy, Mommy, Mommy
12. I love the way he stomps his feet when he walks, kinda like an elephant walk
13. His big, beautiful, blue eyes
14.I love to see him crawl up in Scotts lap and just sit there and watch tv like a big man
15. I love that he is always excited to see me when I get home from work.
16. He knows what No means, and if he's doing something wrong and he knows it, he will run up and hugs you and give you the biggest puppy eyes...manipulation at its worst
17. KISSES!! (Hey its my blog, I can list it twice if I want).

Posted by Heather Noel :: 7:47 PM :: 4 Comments:

---------------------------------------
Kisses!!!
Posted by Heather Noel :: 7:34 PM :: 3 Comments:

---------------------------------------
Sunday, May 21, 2006
This weekend
Good morning Baby!!
Originally uploaded by HeatherScott.

Well where to start? Hmmm...I guess I'll start with Friday. We went to visit our friend or 3rd mom as we call her Ms. Virginia. She hasnt seen Tanner in awhile so we stopped by for a visit. Well her granddaughter Megan was there and she is 3, she fell in love with Tanner. When he saw her he ran up to her and hugged her. Put his arms around her waist and squeezed. It was too cute. Well during the course of our visit, he also go his first kiss. Yes my one year old kissed a girl, not on the cheek either, on the mouth. Oh my!! Ms. Virginia got some pictures of it so when I get copies I will post them. I guess we stayed about an hour and those 2 played like they have known each other since they were born. It was adorable. Megan pushed him in the stroller and then she would sit in it wanting Tanner to push and my little muscle man did. Not very far, but he pushed her. I promised next time she came down we would come back over so they could go swimming together. Since he cant swim yet because of his surgery. Sat. Krisit and I went to a friends wedding in SC. It was beautiful. We were there a little longer than I wanted to be, but it was okay. Today, well today we have just been lazy. We cleaned yesterday and Friday. So it was okay. Well I hope everyone else had a good weekend..We did. I'm off, until next time

Posted by Heather Noel :: 4:50 PM :: 0 Comments:

---------------------------------------
Wednesday, May 17, 2006
Look at that smile
Look at that smile
Originally uploaded by HeatherScott.

I was just reminded that I havent posted in a few days. There really hasnt been too much to blog about. I went to work Monday only to have my shoulder bother me. So I stayed home on Tuse, and called local doctors to see if I could get an appt. Because being the procrastonater I am. I havent got a primary doctor here in Ga. and no dr wants to see a car accident injury. Go figure. I called like 5 doctors on my list and I got the same answer go to the ER so thats what I did. I have a musle strain in my neck and shoulder which the dr said may take a month to heal. But he gave me some muscle relaxers and pain meds. He told me to stay home today and go back and try again tomorrow. So...sitting at home there really isnt too much to blog about.. Tanner has been a pistol today. Non stop. Beside taking nap he's been on the go. Hopefully that means he'll go to bed early. Well I'm off for now. Later.

Posted by Heather Noel :: 6:12 PM :: 1 Comments:

---------------------------------------
Sunday, May 14, 2006
Our trip to the Zoo
Look at that!! Originally uploaded by HeatherScott.

So this is my post about the zoo. We went to the Riverbank Zoo in Columbia, SC. It was wonderful. I didnt think Tanner would be so enthused by the animals we saw, but boy was I wrong. He loved everything. He didnt get scared at any of the ones we saw. He even touched a goat. Which kinda suprised me. He love the aquarium. He had to get up right near the glass so he could see everything. I think his favorite things were the monkeys. These right here, put on a show for everyone. The more people got around the louder they got and the more they swung from trees. Tanner just laughed and laughed. He walked part of the time and rode in the stoller. He got to ride on the carousel for the first time. Everyone thought he would be scared, but I knew he wouldnt be. He liked it so much he rode it twice. After the zoo, we had a picnic and he fell asleep. We had a wonderful time. Hopefully we will go to the Atlanta aquarium next. I let you know in advance next time Beck if you want to go.
If you want to see some more pictures just click here....or on the picture either way
Posted by Heather Noel :: 5:33 PM :: 4 Comments:

---------------------------------------
Saturday, May 13, 2006
New funny face
New funny face
Originally uploaded by HeatherScott.

We've had a busy day today. We went to the zoo, and it was awesome. Tanner had a blast. We took a ton of pictures so I'm in the process of uploading them. So look tomorrow. But I love this picture. He's been making this face for the past couple of days. I just love it. Its one of his best yet!!!

Posted by Heather Noel :: 9:19 PM :: 1 Comments:

---------------------------------------
Friday, May 12, 2006
Pictures of my wreck
Well here are a couple of picks of my poor car. The insurance co. totaled it out. They said the damage was twice what it was worth. So we went car shopping yesterday and got one of these....I love it. We got a great deal on it and its a 2006. Well other than that there is nothing to report. Tomorrow we are going to the zoo. Yippiee. Until later .
Posted by Heather Noel :: 9:33 PM :: 2 Comments:

---------------------------------------
Wednesday, May 10, 2006
Mommy kisses
Mommy kisses
Originally uploaded by HeatherScott.

This is just a test. I noticed that you can post from flickr and add your pictures straight from there. So I'm just seeing how this works

Posted by Heather Noel :: 7:48 PM :: 0 Comments:

---------------------------------------
All I got to do is watch...
Since I'm suppose to be taking it easy, Kristi and Tanner got to play while I sat down and took some pictures. My little man loves to be outside. He had a great time. He petted our dog Bizkit which is a big deal for him. He tried out his new tricycle. All while I watched. I'm just a little sore today, nothing like I expected. My whole body is sore. But hey it could be worse. So I'm resting and enjoying some time with my littlest man. Tomorrow we're going to see my car and pick up the police report. If I think about it I'll take the camera and show the damage. We drove by where I wrecked to today and it was strange to see how far the car slid on the roof. We found my shoe in the ditch and Tanner's wipes that I keep in the car, and his little play mirror. I thank God everytime I think about it...well I'm off. American Idol is coming on.
Posted by Heather Noel :: 7:08 PM :: 0 Comments:

---------------------------------------
Tuesday, May 09, 2006
If you see a possum in the road...HIT IT

Dont be like me and swere to miss it. Because like me you might loose control of your car, roll it and end up in the ER all before 8am this morning. Yes thats how my morning started out. I was on my way to work at 540am like always. For those of you who dont live around here the roads are very dark, and the speed limit is 55. I never do the speed limit because I am scared of the animals that run into the road. So like I said I was on my way to work and this possum decideds to mozey his way into the road, and I swerved to miss him. I've done this a hundred times in the past so what made this differant I dont know. But I lost control of my care, went into a spin, hit the side of the road and rolled my little car. I'm fine!! Just a little shaken up and bruised but fine. Its crazy when people say it happens so fast...it really does. Once everything stopped, I had to get my barrings and realized I was sitting on the roof of my car. I couldnt open the doors. Luckily someone saw me crash and stopped. He called the police and broke out my window so he could talk to me. The cop let me use his cell phone to call Scott, because we had to wait for the paramedics to cover all the glass so I could get out. Everyone was wonderful. Even though I was fine they still strapped me to that board and cuffed my neck and sent me in the ambulance to the hostpital. The hardest thing I think was seeing the look on Scotts face when he saw them pull me out off the car. (Sigh) I was home before 9am, the ER doc told me to expect to fee worse tomorrow and expect some bruising. I all I can say is I have God to thank, because everyone was saying how lucky I was. I havent seen my car yet, it was towed and I guess we will go look at it on Thurs when Scott is off. I know someone was looking out for me. The crazy thing is on the way home Scott pointed out where I crashed, and it was right in front of 2 crosses someone had put up...like I said I had someone was looking out for me. And in case you wanted to know, I killed the possum anyway.
Posted by Heather Noel :: 6:28 PM :: 4 Comments:

---------------------------------------
Sunday, May 07, 2006
Our trip to NC

Well we're home. Everything went good. I'm glad we got to visit our family. I got to see my grandma and uncle. Then knowing that my dad is okay was wonderful. Tanner had a blast. He loved being around my parents. My mom is trying to decided on what he should call her. I think we've gone through every name for grandma there is. I think we settled on Nanny or Nani. We'll see what he picks up. While we were there he got interested in this
Yes a bike. Granted its a bit big for him, but he sure was excited to get on it. He knew where to put his feet and everything. So what did I do? I went a bought him a little tricycle. Its adorable. Its small enough for him to ride now and maybe get use to before he gets this one for christmas. Lets see what else he did...He mastered walking up and down stairs this weekend. We dont have stairs at our house, but he learned what do real quick and once he got it he didnt want anyone else's help
He also discoverd they are good to sleep on. He got to play with my moms 3 dogs. That was interesting. They arent around kids that often, just him and then he was scared of them for a little while. Plus my mom's house is full of animals...her 3 dogs, my sisters cat, and when my uncle comes over his dog, that looks like a rat:
I dont know whats up with picture of the dogs. But it keeps getting worse everytime I try to repost it. Well I'm off for now. I need to wash Toot up and get him in his pjs. So until later.
Posted by Heather Noel :: 5:41 PM :: 1 Comments:

---------------------------------------
Friday, May 05, 2006
Suprise visit

Well as you are reading this, I am in North Carolina. Yes I made a suprise trip down here to visit my folks. My dad had some surgery on Tuse. and he's one of those people who will tell you he's okay even if he's not. So I had to drive up here and see for myself. And he is great. Which is great news. It was great to walk into the house and have him get excited to see Tanner. I wish I would have had the camera a few minutes ago when Tanner started to wake up and my dad laid down on the floor with him. Its moments like that, when I feel bad that we live so far away. I mean four hours isnt really that far, but....we cant see them everyday. I hate to think about the stuff they miss. Putting him to sleep. Seeing him run around and explore everything. Watching him crawl on the floor with the dogs....just lots of little things that add up. Well I'm off to sleep, until my husband calls. He didnt get to come this time because work. SO if you're reading this baby, I love you and good night!!!
Posted by Heather Noel :: 9:16 PM :: 1 Comments:

---------------------------------------
Thursday, May 04, 2006
I guess its time for an update...

Where should I start? Its been a busy, busy week. First of all let me say thanks to

Tif,

for pointing out that

Zoot

had some free layouts for us broke people (LOL). I originally tried this

one

which I loved, but I couldnt get my side bar where it belonged. It wanted to stay at the bottom so I picked another of her awesome layouts.
I guess next, I will update on my little monster. He had a dr. appt with his pediatrician yesterday for another finger prick. And guess what? His counts went up!! He's in the low rang of normal, but he is normal. So his anemia is getting better. She said to continue with the iron drops for another month and we will see then if he can come off of them or not. And finally work........Inventory is over!! Yippieee!!! Now I get a three day break which I so needed. I worked almost 60 hours this week and thats with 2 days off. But I guess it was worth it. We passed which is always a good thing. My area that I'm over improved which is good. So now I'm going to relax and play with my son and actually have real conversation with my husband that doesnt sound like "Hi baby, love you. Good nite." Anyways, I'm off. I will post more tomorrow or I guess technically later today since I fell asleep with the baby for 6 hours. Wow!! I didnt realize I was so tired....later.
Posted by Heather Noel :: 7:20 PM :: 1 Comments:

---------------------------------------
Thursday Thirteen
Thirteen Things about Movies I love

1…. Like Heaven 2. All Harry Potter Movies 3. Star Wars III Revenge of the Sith 4. Sweet Home Alabama 5. The Cutting Edge 6. The Princess Diaries I&II 7. Mulan 8. Lilo & Stitch 9. The Italian Job 10. Chasing Liberty 11. A Walk to Remember 12. Big Daddy 13. Queen of the Damn They're not in any particular order Links to other Thursday Thirteens!
Get the Thursday Thirteen code here!

The purpose of the meme is to get to know everyone who participates a little bit better every Thursday. Visiting fellow Thirteeners is encouraged! If you participate, leave the link to your Thirteen in others comments. It's easy, and fun! Be sure to update your Thirteen with links that are left for you, as well! I will link to everyone who participates and leaves a link to their 13 things. Trackbacks, pings, comment links accepted!
View More Thursday Thirteen Participants


Posted by Heather Noel :: 4:17 PM :: 2 Comments:

---------------------------------------
Monday, May 01, 2006
M-I-C-K-E-Y...la la la la
This picture was taken when he was 6 months old. My parents got him the ears at disney world before he was born. I tried to take some pics of him with it on today and these are what I got.....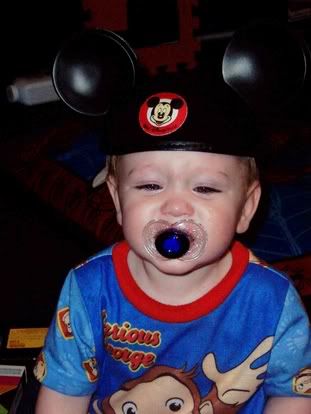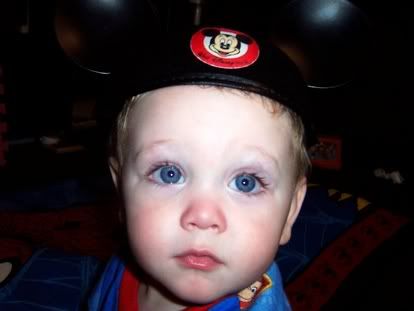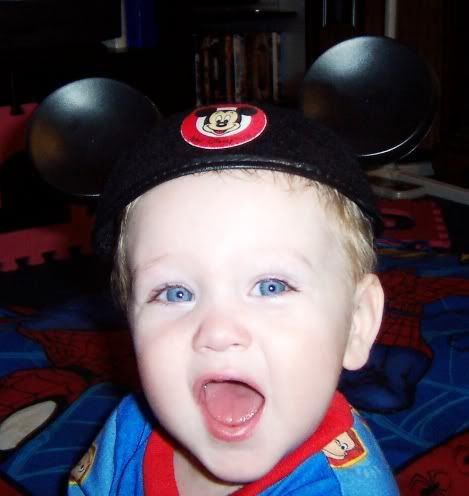 Posted by Heather Noel :: 6:49 PM :: 0 Comments:

---------------------------------------
This is just crazy!!!
Do people really think like this? When I saw this on myspace, I couldnt beleive the lack of respect and the lack of compassion this so called "God" fearing so woman has. I dont know about other people's beliefs, but I was taught God is a loving God. He loves and forgives us. I could never imagin him to be as vengeful as this woman says he is. But thats me.
Posted by Heather Noel :: 3:44 PM :: 1 Comments:

---------------------------------------