Wednesday, January 31, 2007
Just a quick note
Well today I was sitting in my computer class today getting ready to take a mid-term, and my teacher is like "Heather they need to see you up front" I was like what the hell? I've never been called up front before. So I'm a little worried. I get up there and my advisor meets me and informs me that I've been chosen for Student of the Month. I was like you're joking right. She said no, you need to come in tomorrow so you can be interviewed and have your picture taken for the school paper. I was floored. So wow. When the paper comes out, I will scan it. In other news, Tanner went on his first field trip to the library today for story hour, I am proud to say he was the best behaved one there. THAT'S MY BOY! I missed this field trip, Scott got to go, and he forgot the camera. So no pictures this time. But I was assured he was too cute and it did my heart good to know he did so good. Oh yeah, FYI I started a new blog
HERE
. Its a place for me to talk about my favorite books, movies, and tv shows. Maybe even some celebrity gossip. I dont want to put it on my normal blog. So if you want to stop by, please. Let me know what you think.
Posted by Heather Noel :: 10:47 PM :: 1 Comments:

---------------------------------------
Monday, January 29, 2007
This blew
This is Tanner saying "This is bwel" yes he knows a color. And it seems fitting now that its cold as Hell. Yes it is finally cold here in Georgia. It took long enough, and its now FREEZING!! I know its not cold for some of ya'll but when it gets 26 degrees its cold. When it only 44 during the day its cold. And last but not least when it goes from 66-26 in one day ITS COLD!! But its all good. I like it cold. I love drinking hot chocolate and curling up on the couch, and I love curling up with Tanner and Scott in bed. My little man is so cranky today. He was fine is school, but he is so cranky now. I dont know whats wrong, nothing we do seems to pacify him. We've even gone as far as bundling him up and taking him outside to see the moon....nada. Ugh. Well I'm going to get Mr. Cranky pants and see what else I can do.

Labels: Just stuff, The kid


Posted by Heather Noel :: 8:39 PM :: 2 Comments:

---------------------------------------
Saturday, January 27, 2007
Its all Tanner...
First of all I want to point out that my kid is the only one not paying attention during the pledge. Yes, they say the pledge. They only know a few words but "most" of them do stand still with their hand on their hearts. Go figure. I've been to Tanner's class twice this week and the more I see him interact with the children there, the more I'm conveinced that we made the right decision to put him in daycare. He loves it, on the mornings he goes he gets so exited. "I see Diamond, I see Jacob..." and he'll go through everyone in his class. He grabs his book bag and tries to put it on and heads for the door.
(Again, so not paying attention) But I have noticed that he is talking more, and saying things. He really knows his animals and the sounds he makes. He's been repeating colors and shapes when he watches Playhouse Disney. He's growing up so fast. But he's still my little man. Whenever he gets hurt, I always kiss the boo boo, and now, no matter what the boo boo, if comes up to me "Kiss it, Kiss it!" and holds up his hand. He hits his head, he wants me to kiss his hand, bumps his knee...kiss the hand. Its too cute. But of course I think everything he does is cute. Nothing new there.
Labels: The kid
Posted by Heather Noel :: 9:04 AM :: 1 Comments:

---------------------------------------
Wednesday, January 24, 2007
Sooo Slacking
Yes, I know I have been slacking with blogging. I've gone 2 days again. I know, I know. And I wish I could blame it on something meaningful like I'm tired and school's kicking my butt. Sadly no, I am really just a slacker. I have been working on my research paper. (Thanks Jess and Beck) but other than that

nada

. I missed school again today because I woke up late. And if I get up late and have to rush my day is normally ruined. I hate feeling rushed, because even when I get caught up I still feel rushed. So instead of rushing to get me to school, I took my time and took Toot to school. I stayed for about 15 minutes watching him with the other kids. Its adorable. Needless to say that my son in a

MacDaddy

. He walks into the room and one of the little girls run up to him and hug him, and then they both get books and sit down at their table and "read" then they swap books. (Too cute, and of course I

didn't

have my camera) then another little girl comes in and she goes to Tanner and rubs his arms, then touches his hair, and leans in and kisses his cheek.

LOL

. Let me say that there is another little boy in the class but none of the girls pay him the attention they give Tanner. Today in school they made hats, so I had to share, please

don't

mind the dirty face, he had

oreos

and peanut butter toast (in that order). Go figure.
Posted by Heather Noel :: 9:14 PM :: 6 Comments:

---------------------------------------
Monday, January 22, 2007
Yeah that...

Homework and research, yep that is all. Homework and research. Oh yeah and a sleepy 2 year old. Go figure on what my night is going to be like.

Labels: Just stuff


Posted by Heather Noel :: 9:30 PM :: 0 Comments:

---------------------------------------
Sunday, January 21, 2007
Santa and the sickies
So apparently my child still thinks its Christmas. He found the Santa hat and walked around in it. It was too cute. So I have a question, How come after taking care of the sickies in the house I have to get sick again? It seems like I was sick just a couple of weeks ago. I woke up yesterday with almost no voice and coughing. How fair is that? And now I'm worried about getting Tanner sick again. He's just getting better and I really dont want him to get sick again, I feel like I need a dr.mask to make sure I dont pass on my germs. UGH. I cant miss school and I dont want to miss work. I had all intentions of starting my paper today but I fell asleep for like 4 hours. I did find some web sites to look at. Thank you Michelle and Jess for offering to answer any questions for me. Well I'm about to fold some more clothes and give my monster a bath, he is going back to school tomorrow. So do I. Maaannnn....(yes I'm whining).
Posted by Heather Noel :: 6:35 PM :: 1 Comments:

---------------------------------------

Research Paper....

Yikes! I breifly mentioned it before. For my Medical Assisting class I have to write a paper and talk for 10 minutes. Something I am not good at is speaking in front of groups of people. Let me rephrase that. I'm not good of STANDING in front of people and talking, if we're sitting in a group hey no problem, standing...put it this way, I turn 5 shades of red. So my topic for my paper was finally approved, I picked Downs Syndrome. I picked it because of some pretty amazning kids...

Parker

,

Kayla

,

Emma

, and

Joey

. I've been reading their blogs for awhile now and I've become interested in learning more about what makes them so special. I've been doing some reasearch online, I think I need to make a trip to the libary to see if I can find some books. My paper is suppose to focus on the medical stuff, but I want to include all the other stuff. Because these children are truly amazing.

Labels: school


Posted by Heather Noel :: 12:13 AM :: 3 Comments:

---------------------------------------
Saturday, January 20, 2007
Oh yeah he's back!!!
And when I say he's back, he's back with a vengence. He's been all over the house spraying everything down, including us. He loves to act like he's cleaning. So he sprays the tv screen and the stove. Then he comes back and sparys each of us. And for a 2 year old he's got great aim.
He's been taking his medicine with no complaints. He sucks it down like its ice cream. Which I guess I should be happy about. Scott and his brother got the new washer and dryer hooked up and I'm doing laundry. Who knew I could be excited about doing laundry. I'm loving it. The dryer is wonderful, no more running the clothes twice to get them dry. WooWhoo!! Love it. Told you I was excited.LOL.
Labels: Daily Musings, The kid
Posted by Heather Noel :: 3:41 PM :: 2 Comments:

---------------------------------------
Friday, January 19, 2007
Yes, I did it again!

I changed my look again. I know, I know I just changed it. Dont worry I saved the old template so I can switch it back. I dont know why I had the itch to update it again. I dont know. I redo my myspace page once a week. No joke. You can ask anyone who looks at it. So...dont be suprised if it changes again in a few weeks. Just a quick note, Tanner is getting back to his old self. He was running around spaying everyone with a water bottle that Scott gave him to play with. We kept him out of school today just to make sure. But he will be back on Monday. So everything should return to normal around here. Fingers crossed.

Labels: Bloggity Blog Blog


Posted by Heather Noel :: 11:54 PM :: 3 Comments:

---------------------------------------
We're still alive
Its been a whole day since I posted, its been awhile since I did that. Tanner is starting to feel better. He's still a little whiney and clingy but he is playing and eating some. Always a good thing. I went back to school yeserday to find out I had a test I didnt know about to

take. I have one in Med.Insurance every Thurs so I studied for that, but I had no clue about my AMA II class. Since I didnt want to take a make up test I went ahead and took it. I got a B. So I'm not too mad. Next time I will have to call someone and find out that stuff so I'm prepared. I'm so glad its Friday, I'm ready to be off from work. The kids at daycare are getting "cabin fever" because they can't go outside and play. And of course they take it out on us grown ups. So tonight we're going out to dinner at Applebees, and then we're coming home to watch "Lady in the Water" I've been wanting to see it, and Beck let us borrow it. So....thats it for now. I think Tanner is ready to take a nap, and I think I am too before I go to work.


Posted by Heather Noel :: 9:39 AM :: 1 Comments:

---------------------------------------
Wednesday, January 17, 2007
Out of school again
He woke up at 630 this morning and all he wanted to do was cuddle with mommy, and who am I to say no to my sick baby? So I missed school again today. Hopefully this medicine works and he gets back to his old self soon. Last night he played for a little while. He woke up this morning and wanted something to drink, and we've been in the recliner since. He fell back asleep around 8 and so did I, its almost 12 and he's still asleep. My poor guy. But I got to sleep late because of him. Scott was coughing last night I hope he's not getting sick too. I can only handle one sickie at a time.

Labels: The kid


Posted by Heather Noel :: 11:45 AM :: 5 Comments:

---------------------------------------
Tuesday, January 16, 2007
Return of the sickie
Yeah my poor baby is still sick. Last night he got a fever again, and by bed time he was miserable. He tried to sleep but he kept waking up crying, and he kept grabbing his ear. So needless to say none of us got any sleep, when I got up this morning...around 630, I rocked Tanner until the doctor's office opened. I called and they told us to bring him right him. So we got in and right before we got off the street he threw up, so we had to back and clean him up and try again. We got there expectint go have to wait since we didnt have an appointment. We were in and out in less than 20 minutes. He has a bad ear infection in his left ear. She gave us some medicine. My poor baby has been sleeping all day. He keeps getting a fever, but his dr said it would go away. I hate seeing him moppy and not himself. After his first round of his medicine he's getting back to himself. Kinda, he's still clingy and he's sitting in his daddy's lap watching American Idol. He hasnt eaten today, and he's barely drinking anything...that kinda worries me. I'm sure it hurts to suck on the cup. I missed school and work today. I'm keeping my fingers crossed that he's better. Scott's off so I know he'll be fine. But he's just wanted mommy for most of the day...which breaks my heart when I have to leave.

Labels: The kid


Posted by Heather Noel :: 8:52 PM :: 1 Comments:

---------------------------------------
Sunday, January 14, 2007
He's back
Yep, my little terror is back and on the prowl. He's been real goood, except for aggevating Charlie. He's been in his room watching tv, coming out for cuddle. I'm so glad he's feeling better. I hate when he's sick. I've lazy today, taking a nap and watching Monk. Beck told me about the marathon and I've been watching for most the day. So tomorrow I will have to make up for it. Do some house work. (I did most of it yesterday.) I really only need to do some laundry. Then I've got to do some research for my paper. But I might start some work on that tonight. I still dont know what I'm doing the paper on. We had to give 2 choices and then the teachers pick for us. So I going to look up stuff on both and take notes. I guess we will know on Wed. but I would rather be prepared and not stressed out when it comes time to do it. Well I'm off to watch more Monk.
Labels: The kid
Posted by Heather Noel :: 7:40 PM :: 2 Comments:

---------------------------------------
Saturday, January 13, 2007
My sickie...
Well my little man is still running a fever, it keeps going up between 100-102, if he's still running one on Monday I'm going to call the doc. He acts fine. He's just clingy. Which is fine. He didnt go to school Friday and he missed it. But seeing his grandma is his teacher she sent his work home for him to do. Which he loved. "Color pweese!" My parents came down today and took us out for Scott's Birthday. We ate at red lobster...mmm mmm mmm! We went to the mall and Tanner go his hair cut. I asked my mother in law to cut it last week and he wouldnt sit still so it was a bit uneven. So now its fixed. Thank goodness. I love having my family down here. I miss them all the time. Well I'm off to watch a movie with my sister since I'm awake. I thought I'd be asleep by now. I've been up since 700, and I stayed up late. I'm so glad I have 2 more full days off...(picture me doing happy dance here)

Labels: The kid


Posted by Heather Noel :: 10:00 PM :: 2 Comments:

---------------------------------------
Thursday, January 11, 2007
My Toot's sick
My Toot's sick. Yes my poor baby boy is sick. I got home tonight to find my 2 boys alseep in the recliner, and Scott said that Tanner threw up, and he felt warm, I felt his forehead and he felt absoulutyly hot so I took his temp, it was 101.8. SO I gave him some tylonal. He's been fine, he's been playing and eating. He's just running a fever and taking more naps than normal. Hopefully it will pass quickly. I'm not sending him to school tomorrow, just to be on the safe side. I took my first test of the quarter. I got an 87 which is a B. I did better than I thought I did. I'll need to study harder. I really want to stay on the Dean's List. Well I'm off, I'm tired, I dont have school tomorrow, so I get to sleep in. Thank God. My folks are coming down this weekend. And I'm off of work and out of school on Monday. A real day off...I kinda forgot what that feels like.

Labels: The kid


Posted by Heather Noel :: 11:03 PM :: 4 Comments:

---------------------------------------
Tuesday, January 09, 2007
Look what time it is...

This is a pretty interesting meme, kind of like an interview about you and your blog. And I got tagged by

Jessica

so here I go.... 1. Do you like the looks and content of your blog? I love the look of my blog, I need to work on my writing, I like to be a little more witty and funny 2. Does your family know about your blog? Yes! Thats one of the reasons I started a blog so my family could see Tanner everyday 3. Can you tell your friends about your blog? I have but I'm not sure they read it or really understand it. 4. Do you just read the blogs of those who comment on your blog? No, I tend to search around when I have time and read new blogs. But I have a lot of regulars I keep up with daily 5. Did your blog positively affect your mind? Yes, it lets me vent and gets my thoughts out there, you know to make room for all the other craziness that goes on in my head 6. What does the number of visitors to your blog mean? That I have more than I thought 7. Do you imagine what other bloggers look like? Most of the blogs I read have a picture of the writer in the profile and many of the writers also post pictures so no unless they don't post any pictures, then I wonder what they look like. (I agree with this one) 8. Do you think blogging has any real benefit? Yes, I think I would go nuts if I couldnt blog every day, and reading blogs is very relaxing for me 9. Do you think that the blogosphere is a stand alone community separated from the real world? I havent really thought about it 10. Do some political blogs scare you? Do you avoid them? I dont read them 11. Do you think criticizing your blog is useful? Some critisim (spelled wrong) is always good 12. Have you ever thought what would happen to your blog in case you died? INo, but I guess I should put in my will that someone updates it,and I would like a hard copy for my kids to have 13. Which blogger has had the greatest impression on you? My friend Tiffany, if it wasnt for her I would have never started blogging, and

Zoot

, she got me interested in the "pretty" factor of my blog 14. Which blogger do you think is the most similar to you? I'm not sure there is one, because I am one of a kind 15. Name a song you want to listen to. "My Wish" by Rascle Flatts And now I tag:

Beck

,

Tonya

, and

Mir




Labels: Its MeMe time...


Posted by Heather Noel :: 10:26 PM :: 4 Comments:

---------------------------------------
Just some random stuff
Well I've been back in school for 2 days, I'm not sure if I'm going to enjoy this quarter as much as last. I'm not too sure about some of my teachers. I have to do a project on a disease or condition of my choice, and I have to talk about it for 10 minutes. Not too sure about that. I'm still trying to decide what I'm going to write about. On a side note I made the Dean's List again. I didnt too sure if I had or not, but I did. Woo Whoo! Well as you saw in my last post today is Scotts birthday and we didn't do anything. I cooked him dinner, and right now we are watching Jackass 2. (Not for the weak at stomach) I bought it for his birthday, pretty funny,extremly GROSS!! But Scott loves it and I guess that's all that matters. Tanner was out of school today and he and daddy got to spend some quality time together. And right now, I'm impatiently waiting for an update over at 3 sons and a
princess
so I can see the Pineapple Princess and find out her real name. This family has been in the process of adopting a little girl from Russia and I've been following their story, and now she's here in the US with them and I'm just so excited for them. Well I'm off, its back to homework and such. I've got to get everything ready for tomorrow, school, Tanner, all that good stuff, hey dont forget its DELURKING week! So come out, come out where ever you are.
Labels: Daily Musings
Posted by Heather Noel :: 9:23 PM :: 2 Comments:

---------------------------------------
Monday, January 08, 2007
Happy Birthday Scott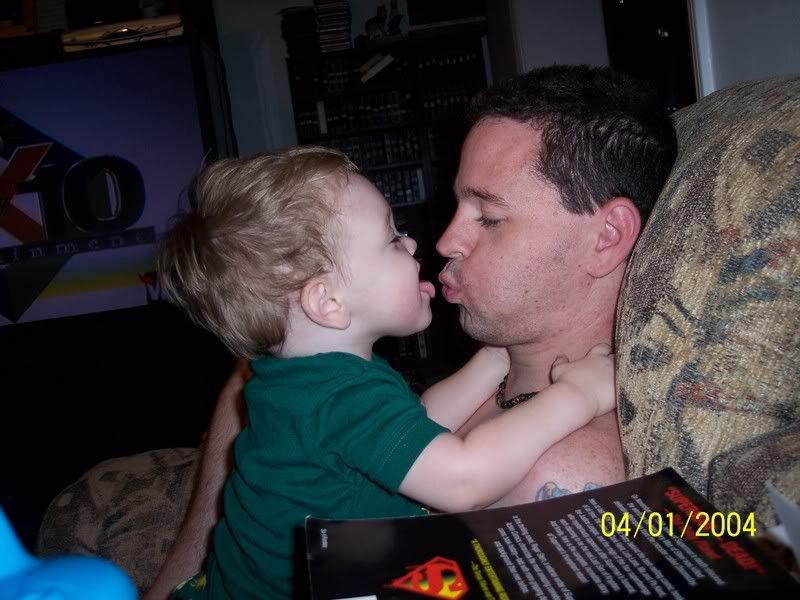 Happy birthday to the best husband ever. Scott is not only my husband, he is my best friend. I could never imagin my life without him. Happy birthday my love. I hope this new year brings you nothing but more love and happiness, all that you deserve. Happy birthday Scott
Labels: Scott
Posted by Heather Noel :: 10:34 PM :: 4 Comments:

---------------------------------------
Guess what?!
I was over at Zoot's blog today, and read that its De-lurking week again. So if you come here often, leave a comment, if your a first time reader, say hey, I love to meet new people. So if you're new our old, leave a comment, I dont bite, I promise....well not much!
Labels: Just stuff
Posted by Heather Noel :: 10:15 PM :: 3 Comments:

---------------------------------------
Sunday, January 07, 2007
Good night moon!
So a couple of weeks ago I showed Tanner the moon and the stars. Every night since he wants to see "moon" Its so cute once it gets dark, he asked "Moon? Where moon?" So we go out on the porch and point at the stars and the moon. So its quickly become a night time ritual, so Good night to the moon, and to the stars...and to you all.

Labels: The kid


Posted by Heather Noel :: 10:14 PM :: 4 Comments:

---------------------------------------
Busy, busy Saturday
So yesterday we went shopping without any money. Gotta love that plastic...gift cards that is. We got lots of gift cards as some of our Christmas so we decided to go shopping. We hit up Old Navy for Scott where they were having some awesome sells. Lots of 50-75% off. I know we got like 6 shirts for less than $50. SO he now has enough new clothes to last awhile. Now he wants new shoes, his birthday is Tuseday so maybe he will get lucky. Our next stop was Target. Which was suprisingly busy for it being after Christmas. So we looked all over for something for Tanner, seeing it was his gift card. So after looking Tanner and Scott found this ugly thing
He's the boy version of the Doodle Bear. As you can see Tanner is already "doodling" all over him. But this one has removable body parts...as you can see the frog haning from its mouth (frog in your throat?) The brain comes out, the stomach, you get the picture. But he loves it. Go figure. After we got done at Target, we went to Toys R' Us (yes another card for Tanner) but the only thing we got with it was new sippy cups with Cars on them. He carries it around saying "trwuck". After shopping for everyone else we got to go to my favorite store, Barnes and Nobles. Wooo Whooo!! I could have spent all day there. I love books. I got Bridge to Terabithia, yes I know its a kids book but I wanted to read it again. Plus its on the banned book list so I wanted a copy. I also got Daughter's Keeper, a new planner for school, and I got the boys a books each too. Scott a Batman book, and Tanner a Spongebob Valentines day one. (I can never just shop for myself)
Then we went and got their hair cut at my mother in laws. Well tried. Scott got his cut and Tanner needed one but it didnt turn out so good. I just wanted it trimmed up around the ears and the bangs trimmed. Well the bangs are short, but its okay. He just wouldn't sit still. He's still cute as always. I'll try to get a picture of him later. He's kinda of getting tired of me with the camera...he starts to hide or refuses to look up. Poor kid.

Labels: Daily Musings


Posted by Heather Noel :: 10:34 AM :: 1 Comments:

---------------------------------------
Friday, January 05, 2007
The first day of school
We all survived. Tanner so much more than us. School started at 9am, we got there a little early to see how he would react. He marched up those stairs like he just knew where he wsa going. He walked into every room checking things out and then went to his room where he got down to business playing. We stayed back and watched, and at 9 we left. He kissed us both and was like bye see ya. He had no problems with us leaving. Which is good I guess. I was at work when he got out so Scott picked him up, and the little turkey didn't want to leave. He was a busy body all day. His teacher (my mohter in law) said he was very curious and didnt want to sit still. But she expected that, they all do it when they first start. He got to play with Play dough, which he didnt like, he loved the play ground, and of course he loved to color. They did an art project, but he doesn't get to bring it home until Monday. I'm so glad everything went so good. Kinda bummed he didnt cry just a little when we left, you know he could have at least acted like he was going to miss us. Just a little.
Labels: The kid
Posted by Heather Noel :: 10:58 PM :: 2 Comments:

---------------------------------------
Thursday, January 04, 2007
Sighs of relief
Well nothing bad happened at work. And for the conflict, I hate to say I won, but it did go my way. No drama, and I've being relived all day. I was so worried about it I was almost late for work, because I didnt want to pay attention to the time. Today has been pretty

uneventful, I'm trying to get everything ready for Tanner's first day of "school" tomorrow. I have to pack his bookbag and pack his lunch, all that good stuff. I'm kind of excited and sad that he's going to day care. I know that he needs this for interaction, but it makes me sad. I know he will love it, because he loves being around kids. But it just means he's growing up too fast for me. I just wish he could slow down...just a little. Just enough so dont feel like he's going to be teenager tomorrow.

Labels: Daily Musings


Posted by Heather Noel :: 7:57 PM :: 2 Comments:

---------------------------------------

So not wanting to go to work

So today's the day that the sh*t will probably hit the fan at work. And I'm not really wanting to deal with it. I quit my last job because of stress, I so dont need to be stressed out now. I know I'm probably just being silly and everything will be fine,but I have one of the nagging feelings...you know the ones we get when somethings wrong. Well its here today going "Hey Heather, guess what I have in store for you?!" Great just great.

Labels: Grrr...


Posted by Heather Noel :: 12:06 PM :: 3 Comments:

---------------------------------------
Wednesday, January 03, 2007
New Year, New look
So seeing it is the new year I decided its time for a new look. Thank you Tonya!! Not only have I got me a new banner, I've started using the labels to catergorize my entries. I was looking for a way to list them in the sidebar, but I haven't figured it out yet. I'm still working on it. Anyone know how to do that? You could pass the info my way. :) So be patient with me during the changes.
Labels: Bloggity Blog Blog
Posted by Heather Noel :: 11:48 PM :: 4 Comments:

---------------------------------------
Toots's check-up
So my 2 year boy... (I still cant get over the fact that he's 2), had his annual check up today. And he's in perfect health (knock on wood). He weighs 26lbs and 13oz. He's 34 inches long, and that big ol' noggin of his in 18in. He's in the 25-50 percentile for everything. Our dr said it was great. His ears are clear,he's doing everything he should be doing. No worries. She asked if I wanted him to have a flu shot, and I decided to get him one since he's starting daycare on Friday. She told me to expect him to get sick since he's never been around a lot of kids, so he'll probably get a cold. Yuck. Not only did he get the flu shot, he had to get his hemoglobin tested and he was tested for lead. Both test are good, but man I think the finger prick is worse than a shot. Poor guy. She had to squeeze 3 small tubes of blood from that little prick. He screamed and screamed. I felt so awful. He's been a little blah today, I'm thinking its because of the flu shot. So we're dr free, for a year, unless something happens. (hope not)

Labels: The kid


Posted by Heather Noel :: 10:53 PM :: 2 Comments:

---------------------------------------
Tuesday, January 02, 2007
Trying to be creative...
See it is the 2nd day of the new year, so I would like to be witty and clever. Yeah right. Nothing much going on. I was extremly pissed off at work today. I've never worked with nothing but women and it amazes me how silly grown women can be. They bicker, and they act like teenagers. Today was just the last straw...I swear it took everything in my power not to say something to them. So I did the right thing and went to my supervisor and told her what was going on. Sometimes I feel its just petty stuff, but I would rather deal with it the "right" way and keep my job, even though Scott is wanting me to quit. Long story short, our supervisor sided with so we'll see how things are tomorrow. Better I hope. I'm trying to have a stess free week since school starts on Monday. Speaking of school, Tanner starts "school" Friday. I'm kinda nervouse and sad all together. Hopefully I will take some new pictures. This one was taken this past Saturday at our last Christmas party. Since I'm on have my laptop I dont all my pictures on here. I will have to work on that. Okay enough ranting and raving, I'm off to bed, Toot has a dr appt tomorrow. His 2 year old check up. Do they get shots at that visit?

Labels: Daily Musings


Posted by Heather Noel :: 10:56 PM :: 6 Comments:

---------------------------------------
Monday, January 01, 2007
The first post of 2007
Like Father, Like Son
Originally uploaded by HeatherScott.

Okay, the first "real" post of 2007, but you get the point...and before I go on, let me just say that this is quite possibly my favorite picture of 2006, they just look so darn cute.

Now that its 2007, I guess it time to post the dreded New Year's resolutions. I make them every year, and every year by March I've forgotten about them. I read on someones else's blog, instead of making resolutions they listed their hopes for the year. I think I'm going to that. That way, I'm not so disappointed if it doesnt happen.

* I hope in 2007 that me and Scott are happier than we've ever been and our marriage continues to stay as strong as it is now

* I hope that Tanner continues to be the happy little boy that is, and I hope he knows every single day how much he is loved.

* I hope that I can keep loosing weight, BUT I hope that I dont beat myself up if I don't

* I hope that I can keep some organization in our lives, especially when it comes to housework.

* I hope I can keep my promise of cooking 2 new meals every week, something we've never tried before...and I hope Scott keeps his promise to try it.

* I hope to graduate school and get a good job this year...I really, really, hope!!

* I hope we get pregnant this year...sometime

* And last but not least I hope this year brings all my friends here in Georgia, and in blog land, Lots of love, and Lots and Lots of Happiness.


Labels: Hopes and Dreams


Posted by Heather Noel :: 10:49 AM :: 6 Comments:

---------------------------------------
From us, to you

I hope the New Year brings you all much happiness, and lots and lots of love. From my Flaugh's to all of you, Happy New Year!!

Labels: Just stuff


Posted by Heather Noel :: 12:44 AM :: 0 Comments:

---------------------------------------