Thursday, November 23, 2006
Thankful...
Hopefully this works without messing everything up....Today is a day for Thanks...even though it seems to get shoved aside for the shopping season, I've decided to show thanks today in a post...it kinda long...mostly pictures....
I am thankful for my husband. I am so lucky to have found a man who loves me unconditionally, who supports my dreams, and encourages me to be myself, and tells me to hold my head up when I feel bad, who tells me I'm beautiful, even on my worse days. I am truly blessed to have found a man like Scott. He is my rock in life...and for that I am grateful.
I am truly blessed with the best parents ever. Who love me and spoil, and who are always there for me even though I'm all grown up and have my own family. I am grateful that Tanner has awesome grandparents who spoil him rotten...I am blessed because my little sister is my best friend. I know she will always be there for me if I need her...she has been in the past, and I could never thank her enough. She inspires me to be a more charitable person, I have never met a more giving person that my sister, she will give her last penny to the Salvation Army, or her neighbor if they need it. She has taught me to be a better person, and I am very grateful for that.
I am grateful for the friends I have in my life. I know that they will always be there for me, if I need to talk or vent. I hope they know I will always be there for them too.

I am so grateful for all of you who stop by everyday and read my blog. Even though I don't know alot of you person, I feel like I do. You share your lives with me, and it makes my day to come home and find new comments on my blog. I can't wait to see what picture of
Randie
, has been posted, or see what funny thing that
Austen has said to Ian
. Or see how my
fave four
are doing in school, or see wonderful pictures of
Joey
and
Patrick
, thank you so much for sharing.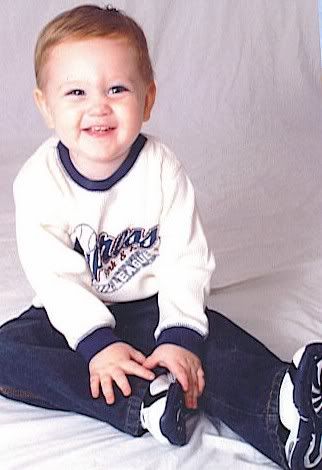 But most of all I am grateful for this little boy. The one who makes me smile everyday, the one who melts my heart when he wraps his arms around my neck. He constantly reminds me that no matter how bad things get, there is always someone wonderful waiting at the front door for me, to make me smile. I have truly been blessed with my little "Toot"
Posted by Heather Noel :: 7:40 PM :: 3 Comments:

---------------------------------------